THE AMERICA ONE NEWS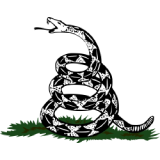 Nov 28, 2023  |  
0
 | Remer,MN
Sponsor: 
WISH-TEXT.COM
 Personalized AI Greeting and Sympathy Cards for the Social Media.
Sponsor: 
WISH-TEXT.COM
 Personalized AI Greeting and Sympathy Cards for the Social Media.
---
---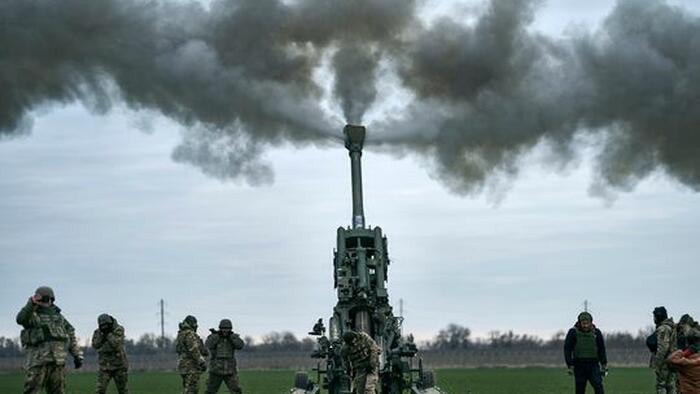 The war in Ukraine is so profitable for defense companies in the US and Europe that they're having trouble finding thousands of skilled workers to satisfy a record influx of orders, according to the Wall Street Journal.
Part of the issue is that jobs in the defense industry require niche skills and security clearances - a problem compounded by a flood of defense companies trying to hire at the same time in an industry which has long struggled to meet recruitment goals.
"Our first priority is really to ramp up capacity, which, of course, means increasing staff," according to Patrice Caine, CEO of French component maker Thales, which plans to hire 12,000 people this year to make submarine sensors, jets, and other military items. Caine described the situation as "tensions on some labor markets," which they plan to deal with by outsourcing to 'foreign engineering centers,' as well as relying on corporate partners.
In 2022, global military spending rose 3.7% to a record $2.24 trillion - with European expenditures increasing at its steepest YoY rate in at least 30 years, according to data released Monday by the Stockholm International Peace Research Institute, a think tank.
The labor shortage among US defense contractors has been an issue since last year, when efforts to replace workers from pandemic furloughs were accelerated - and most companies failing to hit their recruitment goals. That said, hiring has improved in recent months according to the report.
In Europe, however, the problem may actually get worse - with European governments increasing military spending, causing weapons makers - particularly munitions manufacturers - to launch large recruitment drives.
Europe's largest defense company, BAE Systems PLC, is hiring 2,600 this year for its apprentice and graduate training programs, and several thousand more for other roles. Missile maker MBDA wants to add 2,000 workers, equivalent to more than 15% of its workforce. Others including Saab AB, the Swedish maker of the Gripen jet fighter, and Rheinmetall AG, the German company that helps make the Leopard tank, also plan to hire thousands of new workers. -WSJ
"Defense companies are worried at the moment about recruitment," according to ADS Group Chief Economist, Aimie Stone, citing competition for talent within the industry, along with a revived civil aerospace sector and an emerging space industry. According to Stone, ADS members had 10,000 job openings at the end of last year.
UK-based recruiter, Kieran Slaughter, says the defense industry has always posed recruitment challenges, as automakers and airplane manufacturers are competing for the same talent pool, tend to pay more, and don't require security clearances - a process which can take 2-8 weeks in Europe, and several months in the US.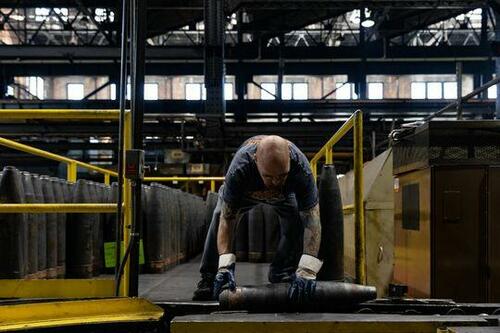 "Some candidates don't want to wait around," said Slaughter.
What's more, many jobs in the defense industry are highly specialized - such as warhead engineers - which Colin McClean, a managing director at BAE Systems, says are a "rare commodity."
US Navy shipbuilder, General Dynamics, was in one of the hardest-hit sectors during the pandemic. In 2022 it hired 24,000 staff - yet, due to attrition and retirements, its net head count was up only 3,400 to 106,500.
Another shipbuilder, Huntington Ingalls Industries, is focusing on recruiting from apprentice schools and community colleges, according to CEO Chris Kastner.
"If people choose the career, they stay," he said. "There's the high chance of attrition now with walk-in individuals."
Lockheed Martin VP of enterprise performance, Paula Hartley, says the space is "a tough place sometimes to recruit people to," referring to the company's facility in Camden, Arkansas - located around 100 miles from the state capital - which employs around 1,000 staff and plans to hire another 200 to make Javelin missiles and Himars rocket launchers. Despite holding job fairs and recruiting farther afield with sign-on bonuses and pay raises, they still have open positions posted since January.
Saab, the Swedish manufacturer, has taken to posting billboards, online ads, holding student job fairs, and a social media campaign.
Imagine what would happen if peace broke out?