THE AMERICA FIRST NEWS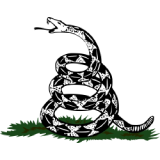 Jun 8, 2023  |  
0
 | Remer,MN
AM1.NEWS
The American Majority
The go-to-site for the news WE read. @am1_news
The go-to-site for the news WE read. : Created and operated in USA. Contact : support@am1.news : @am1_news
AM1.NEWS: The go-to-site for the news WE read : Contact: support@am1.news : Twitter @am1_news: The Internet of Us™ : AM1.NEWS
---
---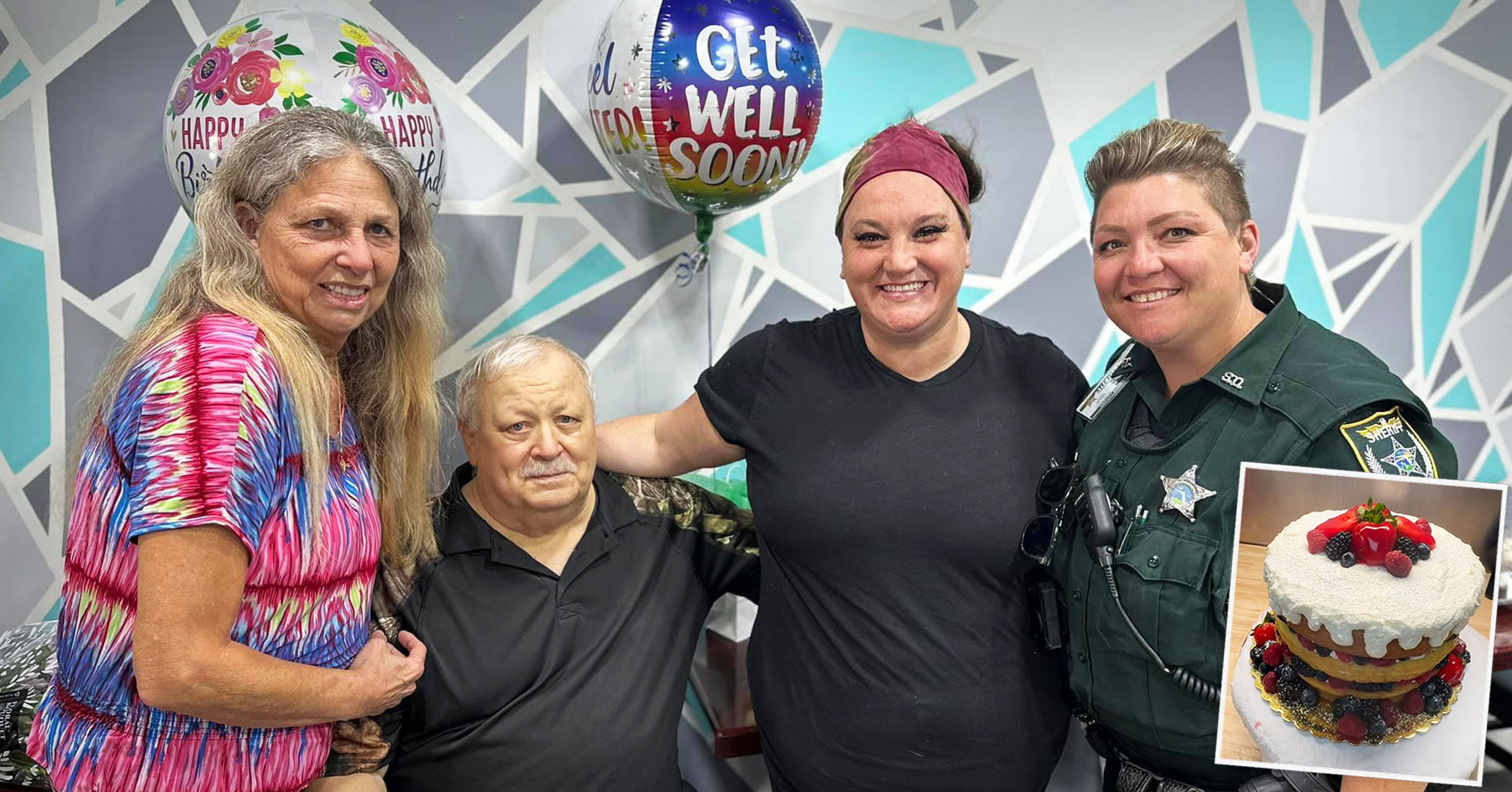 A man who walked into a bakery, determined to pay for his wife's birthday cake early since he was scheduled for a risky surgery, never expected the kind and overwhelming response he would receive.
73-year-old Keith Hall walked into Cupcake Café on St. Joe Plaza Drive in Palm Coast, Florida, in late February to pre-book a cake for his wife's birthday and had an interaction with the owner, Theresa Tazewell.
"He initially asked me if I deliver, and I said unfortunately I don't," Tazewell told The Epoch Times. "He said that might be problematic and I said, 'Why is that?' He said, 'Because I might not be here.' I'm nosy, so I had to ask him why. … He was extremely reluctant to tell me what was going on.
"He's a veteran, and I know that sometimes veterans have a hard time talking."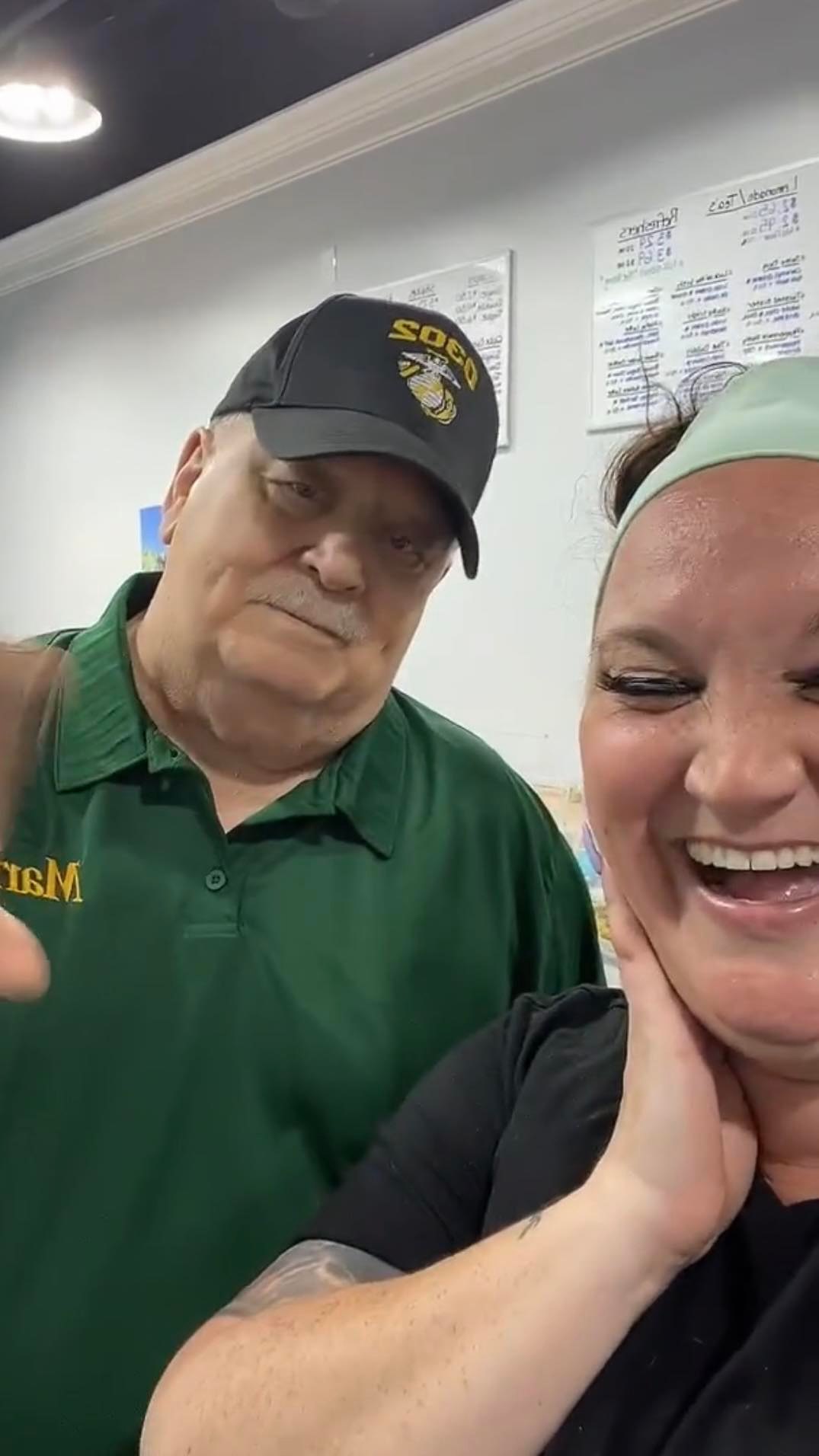 (Courtesy of Theresa Tazewell)
Tazewell pressed him for an answer, and Keith revealed he was scheduled for surgery on March 1. He shared that the last time he underwent surgery for the same issue he died on the operating table and had to be revived after five minutes. He was terrified the same thing would happen again and did not want his wife to be burdened with the cost of her own birthday cake.
"I want her to know that if something happened to me, I was still thinking about her," he said.
Needless to say, Tazewell was taken aback for a moment when she heard that.
"I came back and I said, 'God told me this is what we're gonna do. … The deal is, you are not paying for this cake today. You are going to come back and you're going to pay for this cake. If, for some reason, something happens, I'll tell your wife it's already paid for. There's nothing you can do about it,'" Tazewell said.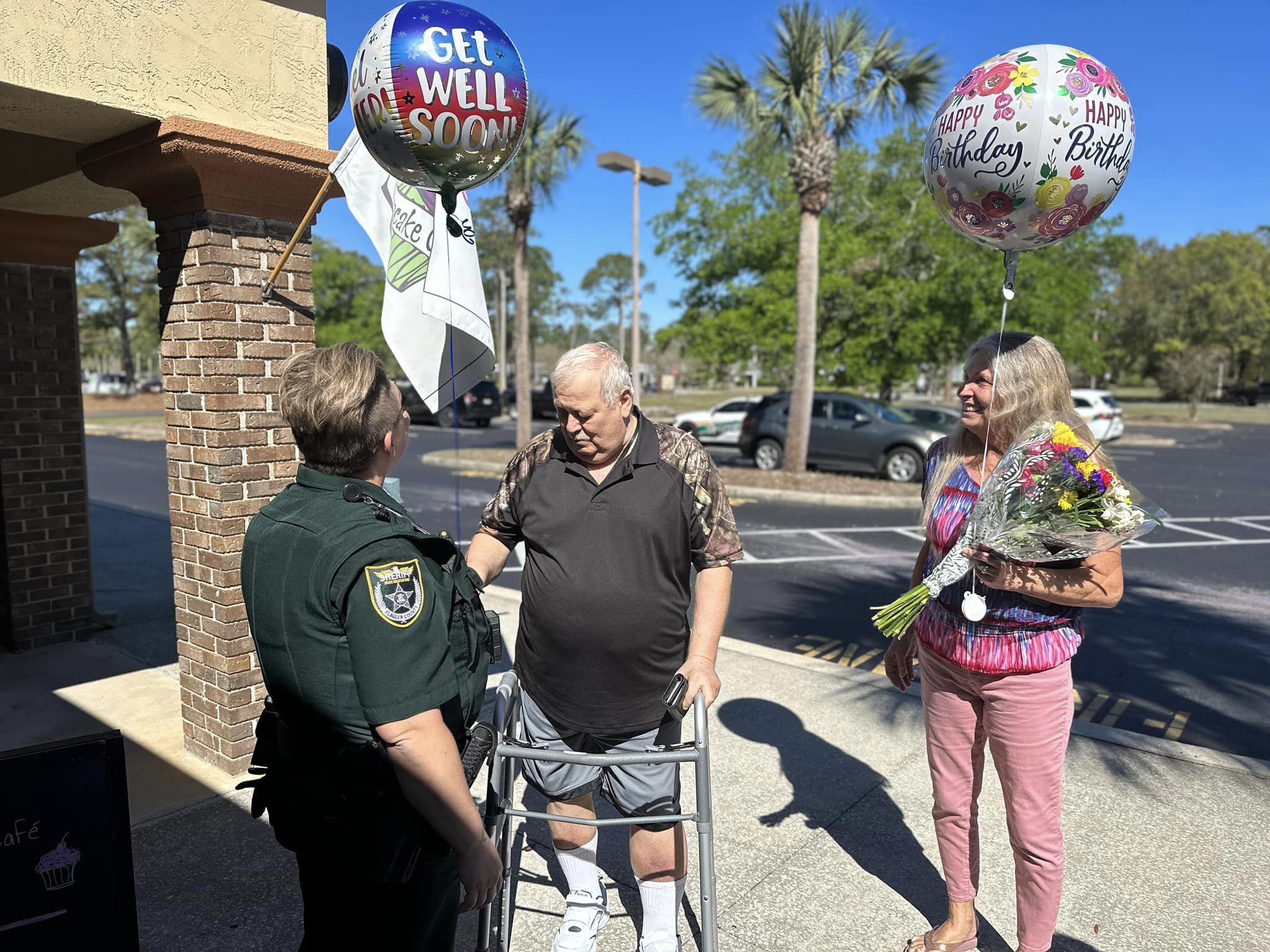 (Courtesy of Flagler County Sheriff's Office)
Tazewell had never met Keith before and shared that her new customer had visited her shop due to glowing recommendations. She filmed their interaction and posted it on social media as she was moved by their exchange. Before Keith left, Tazewell reminded him of their "deal."
"I told him. … 'You have to make sure that you survive because you owe me money,'" she said. "He started laughing. Of course, he was never, ever going to pay for this cake. He was getting a free cake either way."
Between Keith's visit to the bakery and his surgery on March 1, Tazewell couldn't sleep. She called her new friend to tell him she loved him and was praying for him. Millions of social media users also echoed similar sentiments.
(Courtesy of Flagler County Sheriff's Office)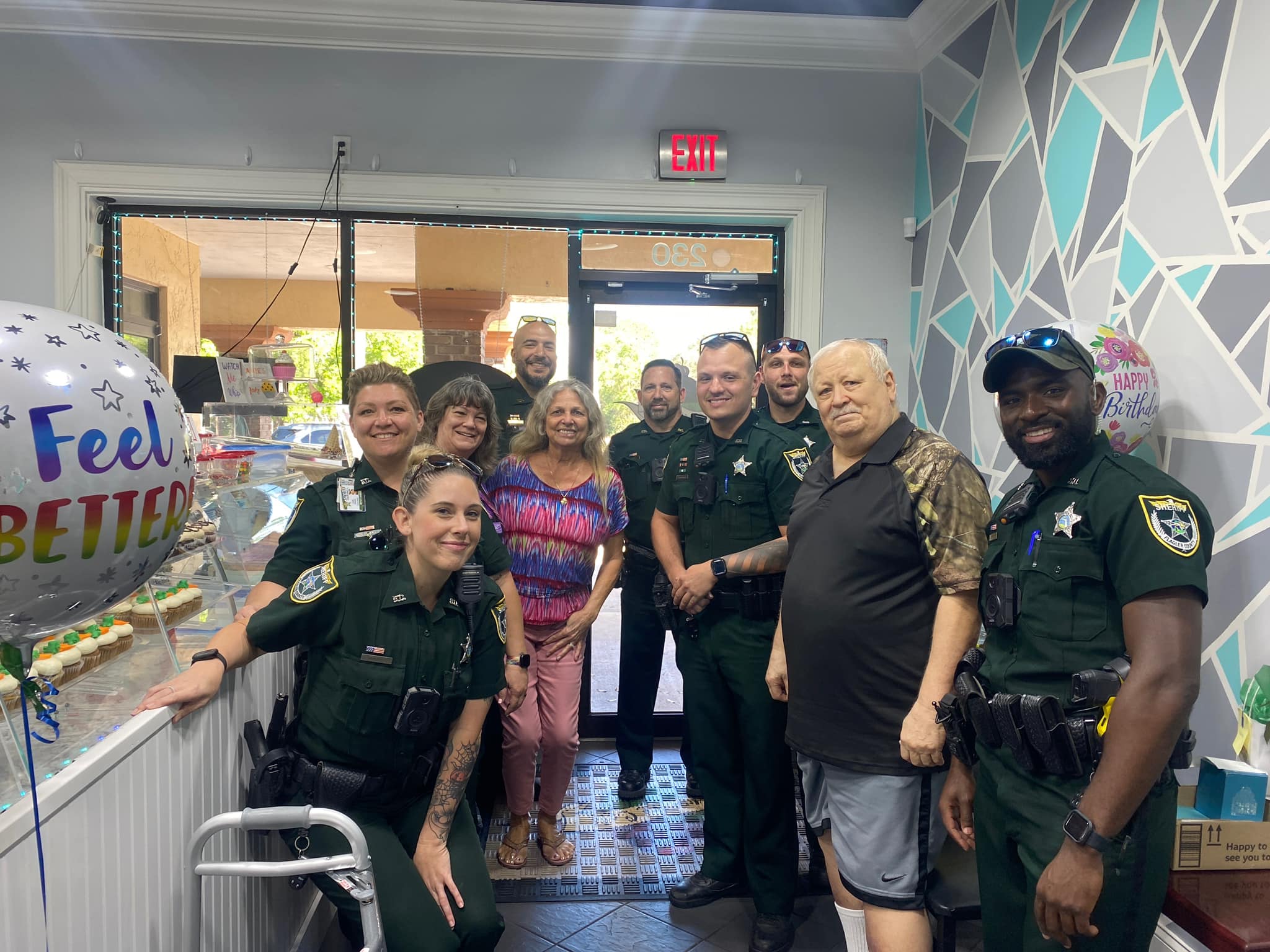 (Courtesy of Flagler County Sheriff's Office)
She was delighted when Keith called her the evening after his surgery.
"He called me [on] March 1 at 7 or 8 p.m. with a tube down his throat after the surgery, to make sure that I knew that he was okay," Tazewell said. "Then he called me at 5 in the morning the next morning and left another message. … I just said, 'I'm so happy that you're okay,' and he just said, 'I'll be in to get my wife's cake, and tell everybody I said thank you for praying for me.' He said that he could feel it."
Keith returned to Cupcake Café with his wife, Angela, on March 11, (Angela's birthday). Tazewell met him at the front of the store alongside Alpha Squad deputies from Flagler County Sheriff's Department, who'd caught wind of Keith's story on social media and wanted to show their support to a veteran.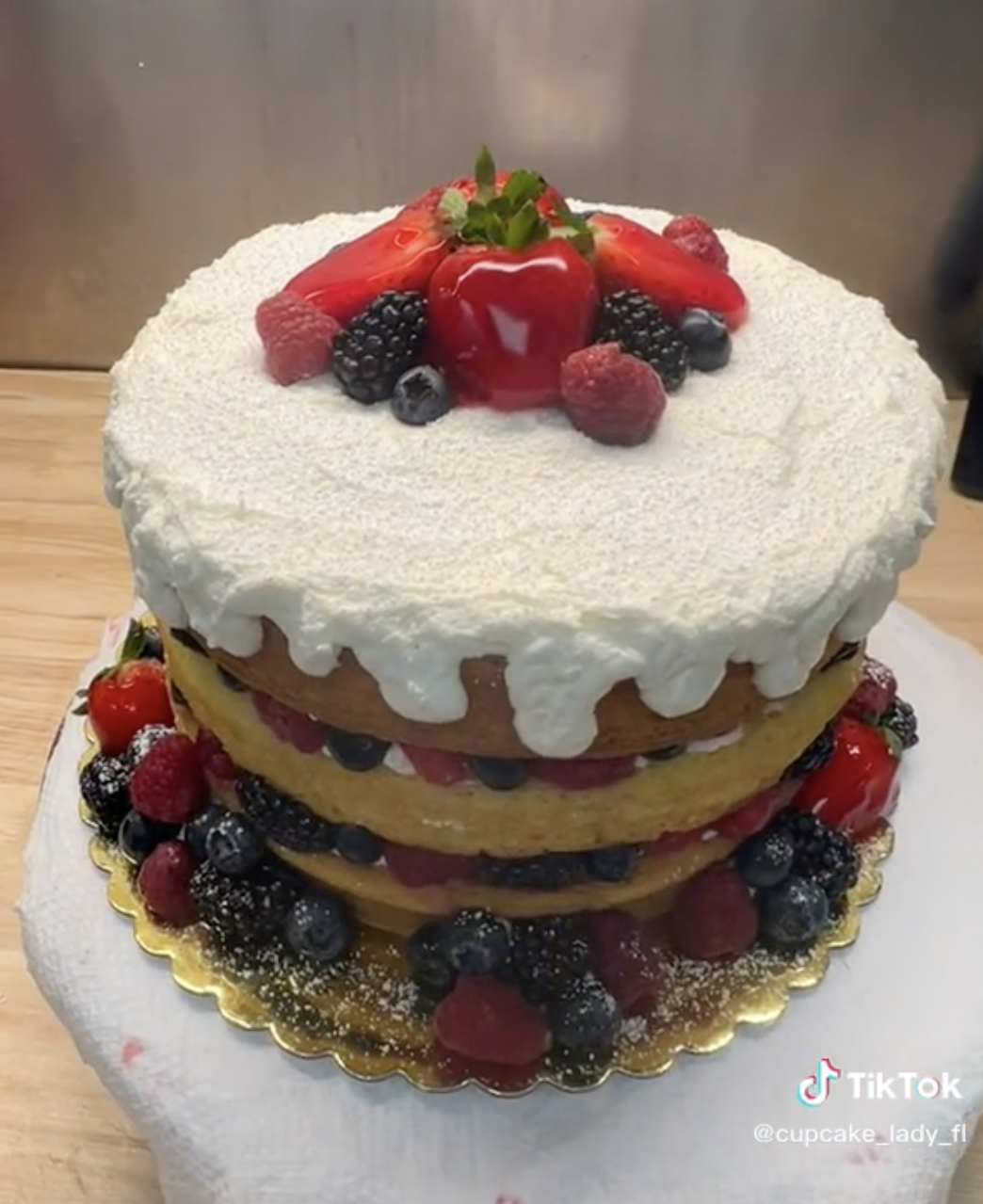 (Courtesy of Theresa Tazewell)
"We all started screaming and clapping, he walked up, and I lost it," said Tazewell, who filmed the reunion. "We all were all crying. … My parents even drove to the shop to meet him and to see what was going on. It was very emotional; it was very happy, very positive."
Apart from the special reunion, even Keith's cake for Angela was special. The doting husband had asked the bakery to recreate the cake pictured on his wife's birthday card: a white cake with raspberry filling, topped with blueberries, raspberries, strawberries, and blackberries soaked in orange extract.
The incredible cake brought Angela to tears. Tazewell was also able to gift the overwhelmed couple $400, which was made up of donations from netizens.
Tazewell, who was born and raised in Augusta, Maine, has been baking cupcakes for almost a decade, a passion that rose from "all the different combinations" possible in baking and decorating. She opened her cake shop in 2015 but closed it three years later to have her fifth heart surgery. She reopened it in 2022 and currently uses a pacemaker.
Since his surgery, Keith has visited the cake shop almost every week for a hot cup of coffee with light sugar and milk, which he drinks in the store.
"He's incredible," Tazewell told The Epoch Times. "Mr. Keith made the whole world believe in love again, and the world is changing day by day. … There are a lot of hateful and awful people in this world, and they're trying to do things to hurt all of us. But Mr. Keith made everybody forget about that, even for a few days. I think that's a wonderful thing."
As for the birthday cake, "They said it tasted really good," Tazewell said.
Share your stories with us at emg.inspired@epochtimes.com, and continue to get your daily dose of inspiration by signing up for the Inspired newsletter at TheEpochTimes.com/newsletter
Note: You can use @chatbot mention tag to interact with ChatGPT language model in comments. Neither your comment, nor the generated responses will appear in "Comments" or "News & Views" streams.