THE AMERICA FIRST NEWS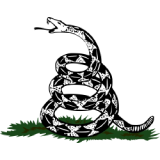 May 31, 2023  |  
0
 | Remer,MN
AM1.NEWS
The American Majority
The go-to-site for the news WE read. @am1_news
The go-to-site for the news WE read. : Created and operated in USA. Contact : support@am1.news : @am1_news
AM1.NEWS: The go-to-site for the news WE read : Contact: support@am1.news : Twitter @am1_news: The Internet of Us™ : AM1.NEWS
---
---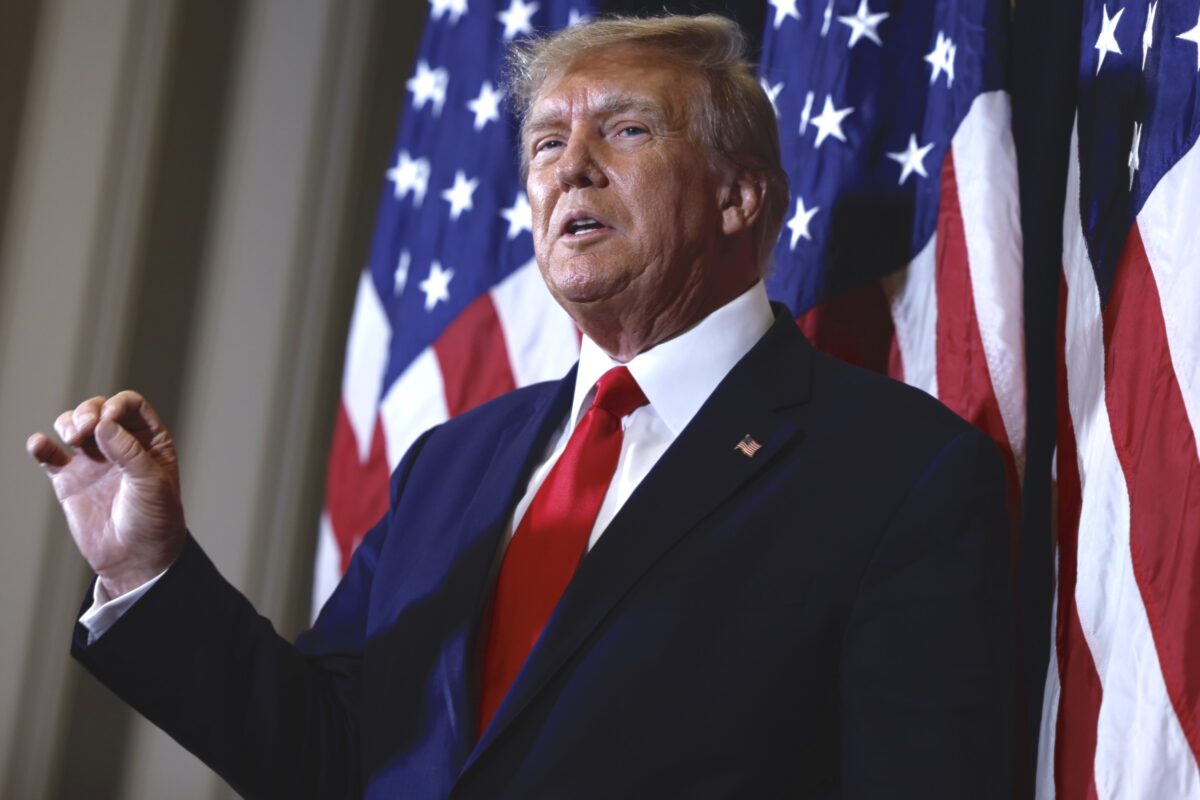 Former President Donald Trump's unprecedented indictment has surged into the limelight and fueled public debate over whether this case is legitimate and shows no one is above the law or amounts to a political hack job meant to thwart Trump's chances in the 2024 presidential election.
Expectations are that Trump will be arraigned at some point in the coming week, with a spokesperson for the office of Manhattan District Attorney Alvin Bragg saying in a statement that it's now coordinating with Trump's attorneys the former president's surrender.
Here are key things to know about the indictment, which was handed down on Thursday, making Trump the first former or sitting U.S. president to be charged with crimes.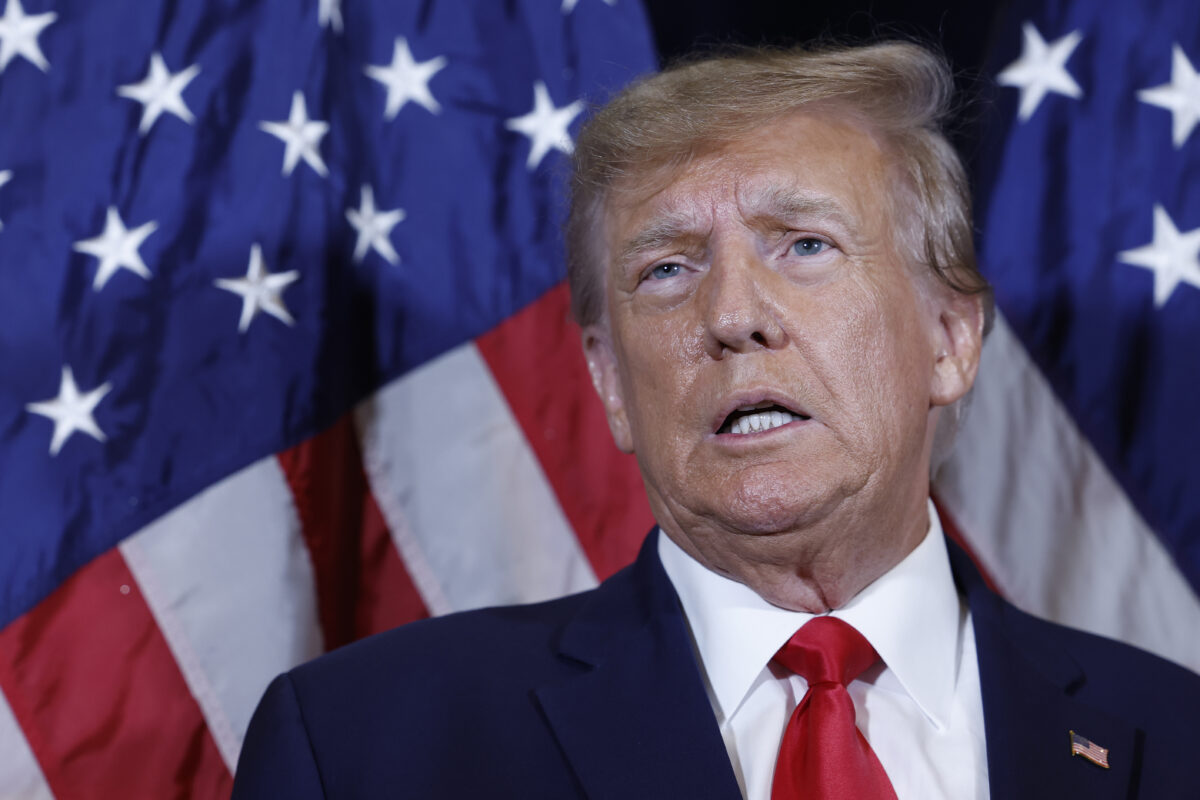 Former President Donald Trump speaks to reporters before his speech at the annual Conservative Political Action Conference (CPAC) in National Harbor, Md., on March 4, 2023. (Anna Moneymaker/Getty Images)
Joe Tacopina, Trump's lawyer, told The Epoch Times that the former president is expected to be in New York City next week for arraignment, with April 4 floated as a possible date.
"He's angry, disappointed, but he's ready to fight. He's a pretty tough guy—his knees don't buckle, so he'll be ready to go," Tacopina said.
Tacopina told NBC News on Friday that there's "zero chance" that Trump will take a plea deal in the case and the former president is "not going to hole up in Mar-a-Lago," his Florida home.
"There's no crime. I don't know if it's gonna make it to trial because we have substantial legal challenges."
While it's not believed Trump will resist arrest, Florida Gov. Ron DeSantis has said that he would not assist with any potential extradition should Trump refuse to cooperate with his arraignment.
Reports indicate that Bragg was investigating Trump for allegedly misclassifying supposed hush-money payments made during the 2016 campaign to adult film actress Stormy Daniels to cover up a purported affair, which Trump has denied.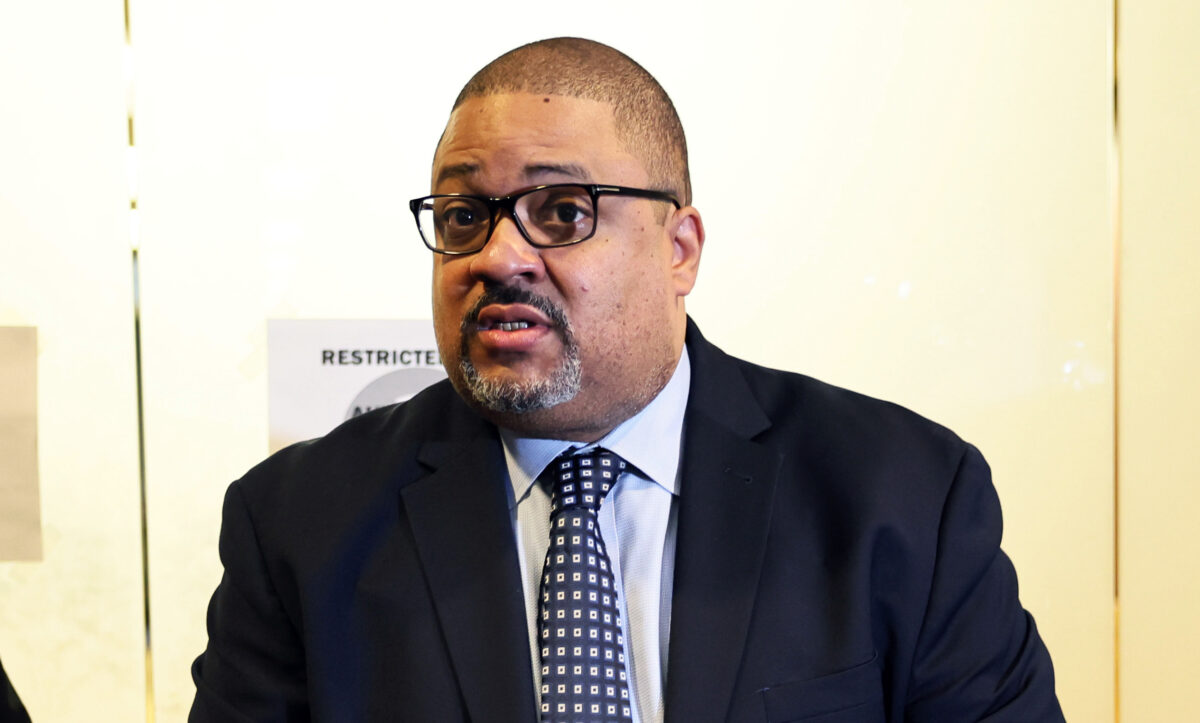 Manhattan District Attorney Alvin Bragg speaks at a press conference after the sentencing hearing of the Trump Organization at the New York Supreme Court in New York on Jan. 13, 2023. (Michael M. Santiago/Getty Images)
Bragg empaneled a grand jury that has been investigating Trump's involvement in a $130,000 payment made to Daniels.
Trump's former lawyer, Michael Cohen, said he made the payment to Daniels via a shell company that was then reimbursed by Trump's company, the Trump Organization, and recorded as legal expenses.
Cohen pleaded guilty in 2018 to violating campaign finance law in connection with the payment. In his plea deal, Cohen claimed he made the payment at Trump's direction and that he was reimbursed by the Trump Organization, even though he earlier claimed he paid the money out of his own pocket.
Federal prosecutors have said that the payment constituted illegal, unreported aid to Trump's campaign but they declined to file charges against the former president.
The grand jury in Manhattan has reportedly been probing whether any crimes were committed in arranging or booking the payments to Daniels, though the specific charges remain under seal.
While the indictment remains sealed, it's believed that the case against Trump relies heavily on Cohen's testimony.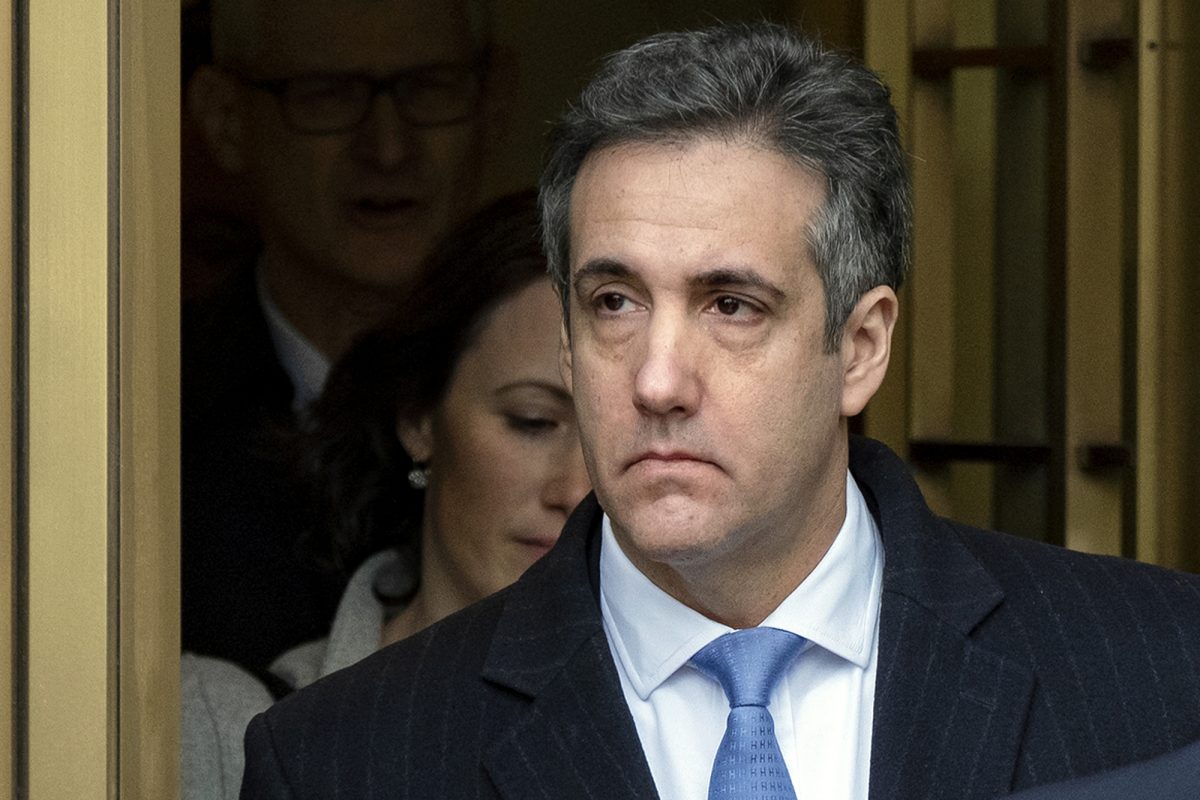 Michael Cohen, President Donald Trump's former lawyer, leaves federal court after his sentencing in New York on Dec. 12, 2018. (Craig Ruttle, File/AP Photo)
Former U.S. Attorney General William Barr has criticized the indictment, calling it a "disgrace" and a "political hit job."
In an interview at the National Review Institute Ideas Summit, Barr said he saw the case against Trump as prosecutorial abuse and as "pathetically weak."
"Judging from the news reports … it's the archetypal abuse of the prosecutorial function to engage in a political hit job, and it's a disgrace," Barr said when asked to comment on the case.
Barr said that Bragg appears to have ginned up a technical misdemeanor into a felony, adding that this was something that federal prosecutors chose not to prosecute as a campaign violation.
"So for the state DA to try to use this as a way of bootstrapping himself into a felony is sort of outrageous," Barr said.
Legal analysts have said that Trump's defense lawyers are likely to raise a number of issues when he's arraigned, including that the statute of limitations bars the alleged charges and that the case is based on a faulty legal theory.
Barr said that for the case against the former president to have any traction, Bragg would have to prove Trump falsified records with intent to defraud.
Under New York state law, falsifying business records by itself is a misdemeanor but if the records fraud was used to cover up or commit another crime, the charge could be elevated to a felony.
The former attorney general said he believes Bragg is misapplying federal law related to campaign finance in pressing ahead with the charges.
"On the federal issue, they've gotten the statute completely wrong, in my mind, and I don't think the Department [of Justice] would support this interpretation of the statute that they're taking, which is that paying … hush money is a campaign contribution," he said.
"So I think the whole thing is a very weak case," Barr said.
Jesse Binnall, one of Trump's lawyers, said Friday that there's "absolutely no legal basis" for the case against the former president.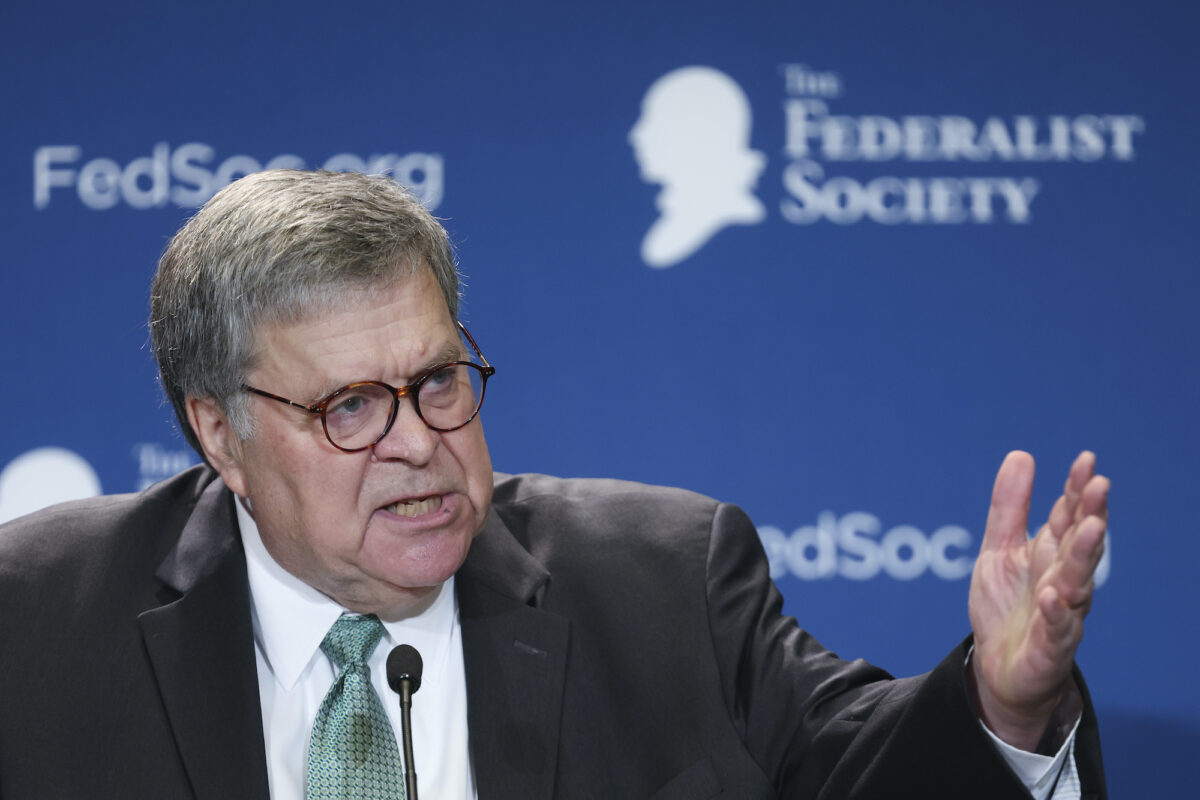 Former U.S. Attorney General William Barr speaks at a meeting of the Federalist Society in Washington on Sept. 20, 2022. (Win McNamee/Getty Images)
The former president said in his latest public statement on Truth Social that he's a "totally innocent man" and described the indictment as "blatant" interference in the 2024 presidential election, in which polls show he's the Republican frontrunner.
Trump said that, with the indictment, the "radical left Democrats" have gone too far in their "maniacal obsession to 'get Trump.'"
"How much more are American patriots expected to take?" Trump asked.
At the beginning of the month, Trump predicted his imminent arrest and urged his supporters to protest. Last week, he warned about "potential death and destruction" if charges were to be filed against him.
Law enforcement has been on guard in case any potential protests over Trump's arraignment were to turn violent.
"Officers have been placed on alert and the department remains ready to respond as needed and will ensure everyone is able to peacefully exercise their rights," the New York Police Department (NYPD) told The Epoch Times in an emailed statement.
"There are no current credible threats to New York City," the NYPD added.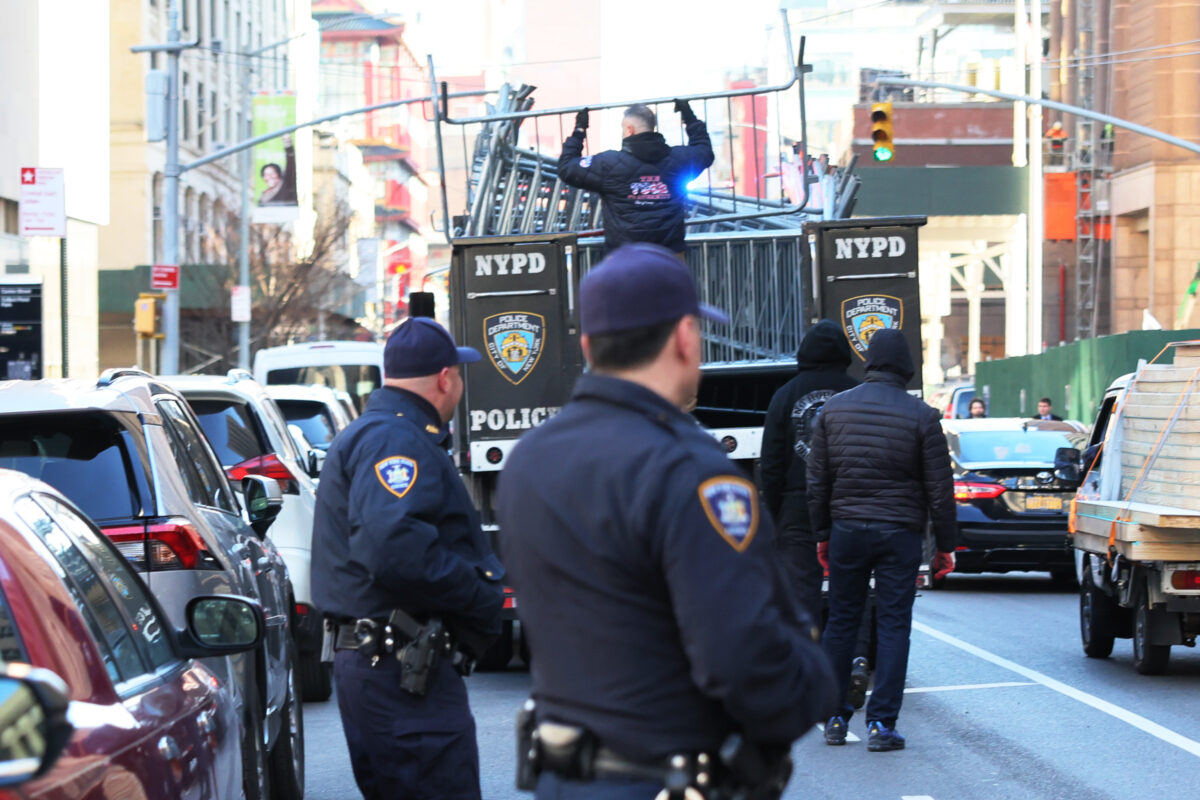 New York Court officers watch as NYPD drop off metal barricades in front of the Manhattan Criminal Court in N.Y.C., on March 20, 2023. (Michael M. Santiago/Getty Images)
Normal procedures suggest that prosecutors have been negotiating Trump's voluntary surrender at the DA's office in Lower Manhattan.
Tacopina has said Trump intends to voluntarily surrender, in which case the former president would appear at the DA's office at an agreed-upon time for booking. He would then be fingerprinted, have his mugshot taken, and be read his Miranda rights.
Trump would later be arraigned at a courtroom in the same building, with his defense team being handed a copy of the indictment that will reveal details of the charges against him.
It's expected Trump will enter a not guilty plea and be released on his own recognizance. New York law prohibits prosecutors from seeking bail for nonviolent felony charges.
Another lawyer representing Trump in a separate case, Jim Trusty, told CNN that he believes Trump's legal team will push for the charges to be dismissed before the case goes to trial.
"I would think in very short order, you'll see a motion to dismiss—or several motions to dismiss," Trusty told CNN, adding that those filings will likely be submitted within "days."
Other legal experts have made similar arguments, saying that Trump could try to get the case dismissed based on the statute of limitations or because Bragg's case is based on a questionable legal theory.
In addition to the Manhattan probe, Trump is facing other investigations.
The Department of Justice is investigating Trump's retention of classified government documents at his Mar-a-Lago home, as well efforts by the former president and his allies in challenging the results of the 2020 election.
Caden Pearson, Gary Bai, and Zachary Stieber contributed to this report.
Note: You can use @chatbot mention tag to interact with ChatGPT language model in comments. Neither your comment, nor the generated responses will appear in "Comments" or "News & Views" streams.