THE AMERICA ONE NEWS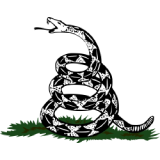 Dec 2, 2023  |  
0
 | Remer,MN
Sponsor: 
WISH-TEXT.COM
 Personalized AI Greeting and Sympathy Cards for the Social Media.
Sponsor: 
WISH-TEXT.COM
 Personalized AI Greeting and Sympathy Cards for the Social Media.
---
---
COLUMBUS, Ga. – Kari Lake, a Republican well-known for challenging her 2022 Arizona gubernatorial loss, told a packed house of Georgia Republicans that election integrity–and support of embattled former President Donald Trump–should be top priorities.
"The two states that have been fighting the hardest to get our sacred vote back are Arizona and the Peach State of Georgia," said Lake, who could be on Trump's shortlist for possible running mates in the 2024 presidential election. Lake addressed about 930 people at the Georgia GOP Convention Victory Dinner on June 9.
Both states are considered key to a presidential win. "We all know that the path to the White House goes directly through Arizona and Georgia," Lake said.
More than 2,700 attendees pre-registered for the convention, the largest turnout in the party's history, Georgia GOP Chair David Shafer told The Epoch Times.
Declaring that the party is stronger now than ever in Georgia, Shafer said he was pushing back against a "false narrative," suggesting that the party suffers from a lack of unity.
"A lot of people confuse growing pains with division," Shafer told the audience as he welcomed Lake to the stage.
The convention continues on June 10, with Trump set to be a featured speaker at the Columbus Convention & Trade Center. It will be Trump's first public appearance since federal authorities unsealed a 37-count indictment against him. Those charges involve Trump's alleged mishandling of sensitive government documents after his presidency ended in 2021.
"He's back in the ring, and this time, I think he's taking the gloves off. He's ready to go. And I can't wait to see what he does next," Lake said.
When Lake defended Trump and credited him for refusing to back down from claims that the 2020 election was stolen, she drew cheers and applause. Trump has never conceded defeat to Democrat President Joe Biden.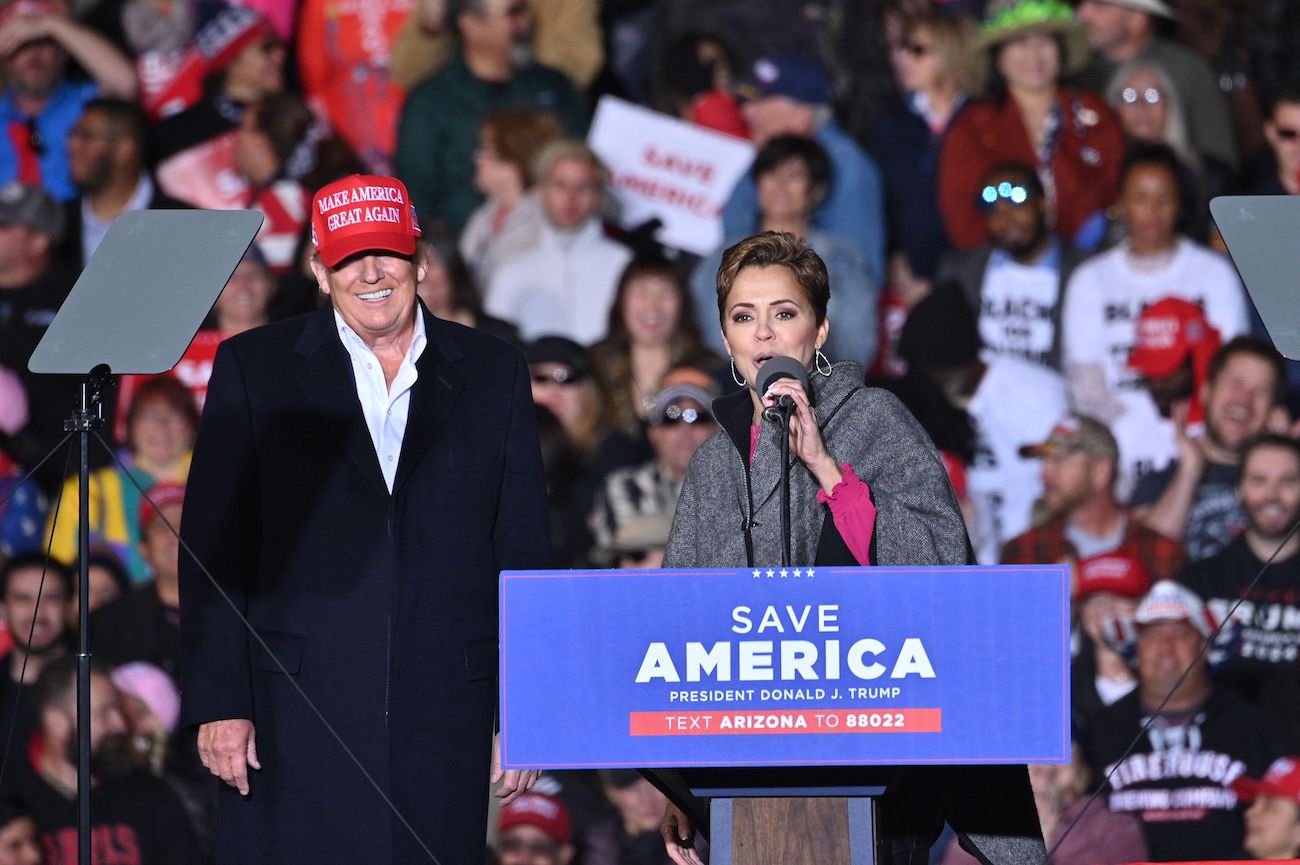 Former President Donald Trump and Kari Lake, whom Trump is supporting in Arizona's gubernatorial race, speak during a rally at the Canyon Moon Ranch festival grounds in Florence, Arizona, on Jan. 15, 2022. (Robyn Beck/AFP via Getty Images)
"They rigged the elections to stop Trump, install Biden and destroy our country," Lake said. Biden has said he won fairly, with a record 81 million votes cast for him.
Lake played a video mocking that vote total; the audience jeered in response.
Republicans need to ramp up their efforts to fix problems such as voting machines failing or possibly being tampered with, Lake said.
She intends to continue raising concerns about election fraud playing a role in her 2022 defeat. The case could escalate to the U.S. Supreme Court, Lake said.
Georgia and Arizona have both made progress in strengthening elections, she said.
"We're nibbling around the edges, but we need to do something really big with elections, or we're gonna have another one stolen from us," Lake said. "If '24 gets stolen, we lose our country."
Throughout Trump's presidency, and since he left office in 2021, Trump has maintained that he is the victim of political witch hunts; he was cleared of wrongdoing in several previous investigations, including allegations that he colluded with Russia to sway the 2016 election in his favor.
Jimmy Fisher, who has been a Georgia convention delegate since 1984 and sported political memorabilia dating to 1964, said all the probes against Trump have turned out to be unfounded.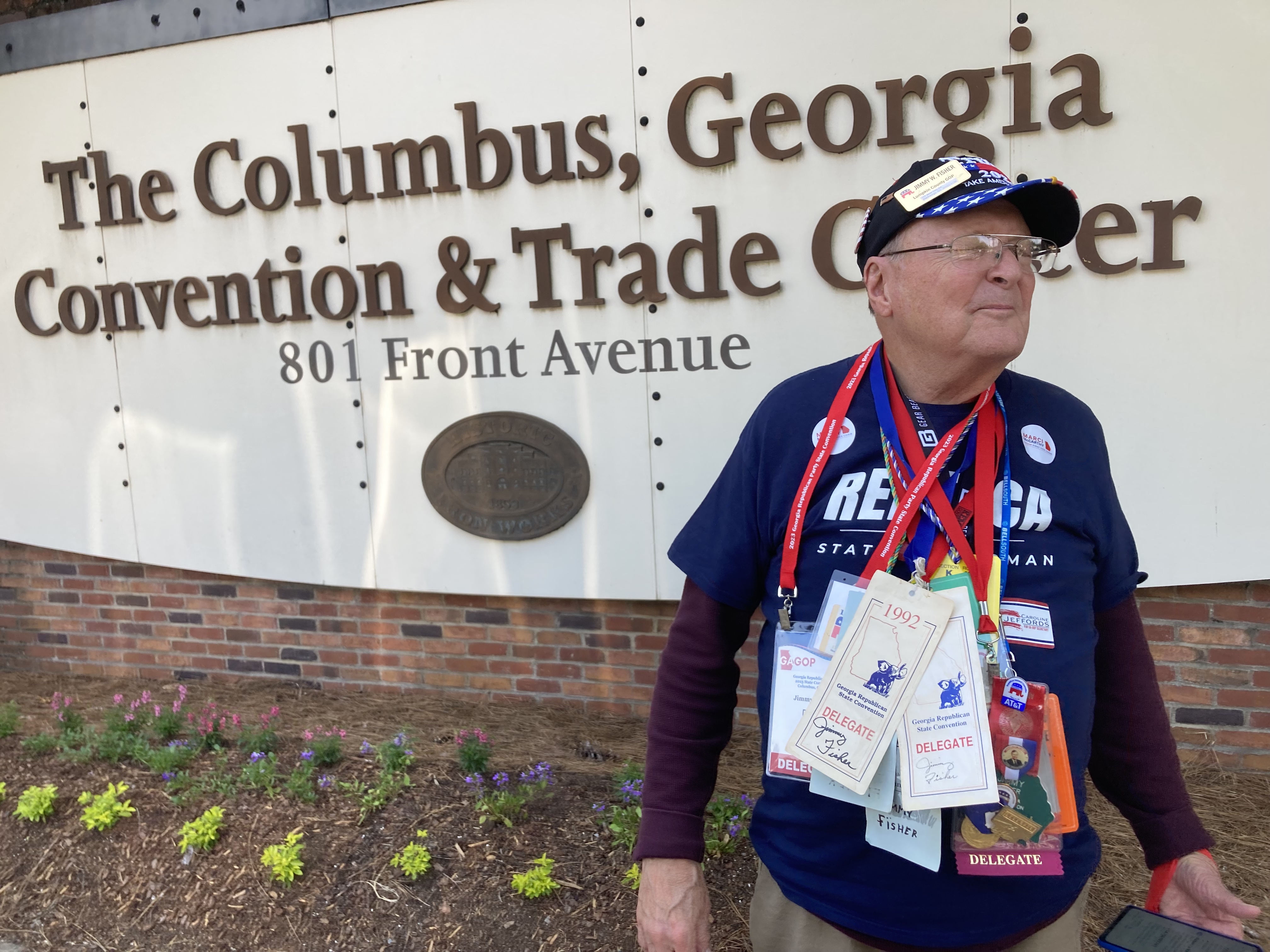 Jimmy Fisher, a longtime delegate to the Georgia GOP convention, waits for a ride outside The Columbus, Georgia Convention & Trade Center on June 9, 2023. (Janice Hisle/The Epoch Times)
"So far, there's not one thing proven against him," Fisher told The Epoch Times. However, he noted that charges are now stacking up against Trump. In addition to the 37 federal charges revealed on June 9, Trump was indicted for 34 state business records charges in New York. Trump also remains under federal investigation for actions he took to oppose or challenge the 2020 election results both at the national level and in Georgia.
Nevertheless, Fisher, wearing a Trump 2024 ball cap, said, "I have not passed one person today that said anything against him. Everybody I've passed today has said, 'I'm voting for Trump.'"
Another conference attendee, Leigh Ann Eskew, told The Epoch Times she is voting for Trump because "He's the only candidate who has the strength to stand up to the Washington swamp."
Still, the new, historic federal charges that Trump faces come with long potential prison terms, Lake said.  Startled muttering rippled through the audience when Lake remarked: "The illegitimate Biden administration wants to lock our beloved president Trump up for more than 200 years."
Then Lake blunted the shock of that lengthy possible prison term by joking, "I kind of think he's immortal. But 200 years?!"
Lake said she spoke with Trump on June 8, shortly after he revealed he had been indicted. "I had expected him to be a little bit down and out," Lake said. Instead, "He was in such high spirits…He sounded calm, cool, collected," Lake said. "I wasn't." She said she was angry.
"I love this country but I hate this decrepit, disgusting, corrupt federal government that we have right now," she said.
"What they're really trying to do is cover up the criminal acts of the Democrats and Joe Biden–literally criminal acts," Lake said. She noted that the charges against Trump were released just as information surfaced about an alleged foreign bribery scheme involving Biden and his son, Hunter.
Earlier in the day, entrepreneur Vivek Ramaswamy, a challenger to Trump, told The Epoch Times that the prosecution of the former president seems unAmerican.
"I'm running against Donald Trump to win the Republican nomination for president, but I don't want to win by having him  eliminated from competition by a corrupt federal police state," Ramaswamy said.
"We're not a Banana Republic, where the party in power uses a police force to arrest its political opponents," he said. "That's not us. That's not the America I learned to pledge allegiance to."
Ramaswamy said he was gratified to see that, throughout his June 9 speech at the convention, the crowd was on its feet.
Convention attendee Cliff Rhodes, 45, a lifelong Georgian, told The Epoch Times that Ramaswamy's oratory skills are so good he may rise to become a contender later in the campaign.
Overall, Rhodes liked Ramaswamy's message because "he sounds like an 'America First' patriot." Still, Rhodes said, Ramaswamy remains somewhat of an unknown quantity for him.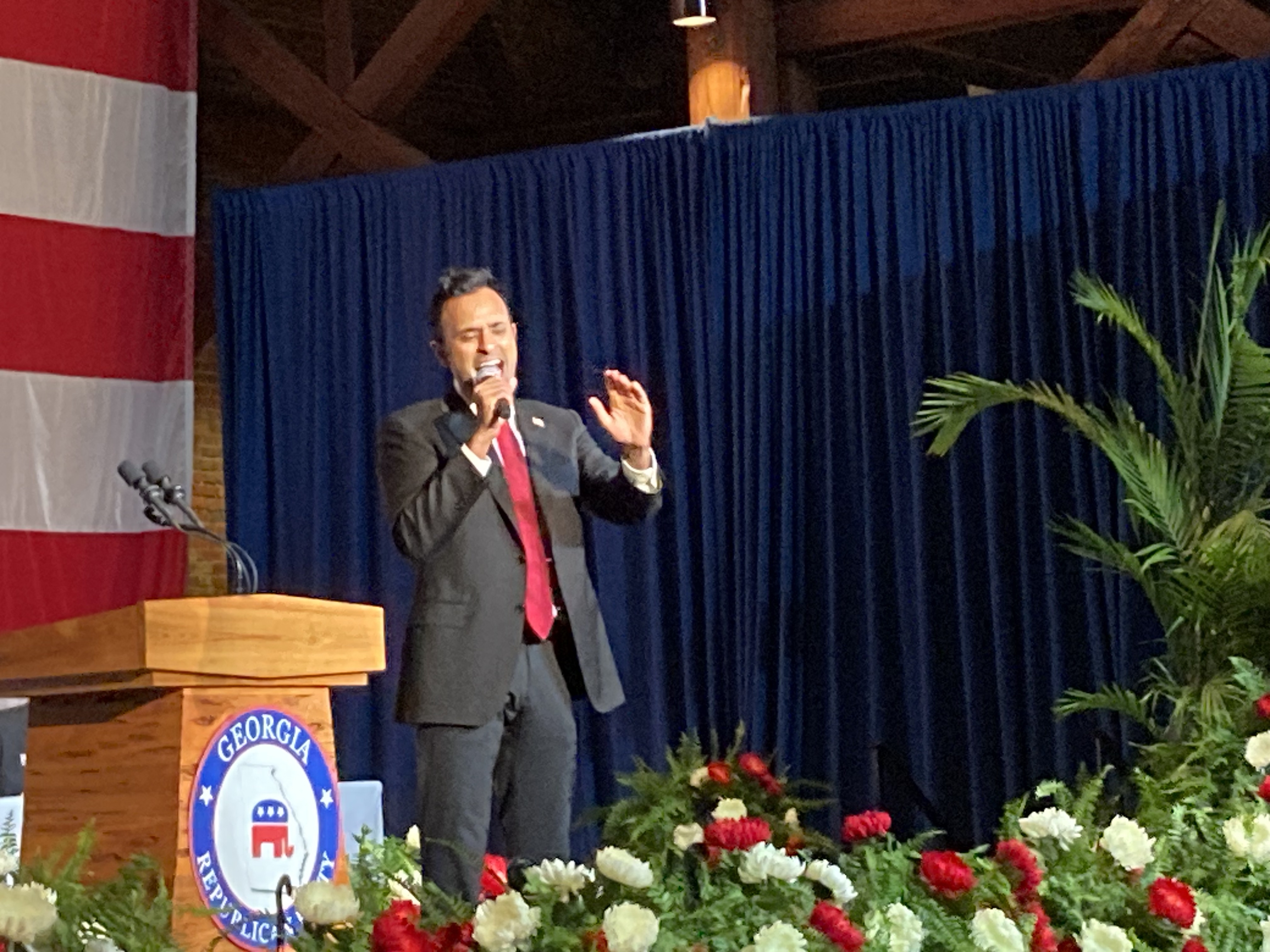 Vivek Ramaswamy, a challenger for the Republican presidential nomination in 2024, speaks to the Georgia GOP Convention in Columbus, Georgia, on June 9, 2023. (The Epoch Times/Janice Hisle)
And, although Rhodes likes Florida Gov. Ron DeSantis, "I don't think DeSantis is ready for 2020. In fact, I'd like for him to stay in Florida because he's done such a good job," Rhodes said. He'd rather see DeSantis finish his term as governor and run for the 2028 presidential election.
Convention attendee Shannon Hall said she liked Ramaswamy's message.  Asked whether she'd vote for him to become president, Hall said, "He'd make a great V.P."
But both she and her sister, Shari Poole, who wore patriotic dresses to the convention, said they remain Trump supporters despite the indictment.
Poole denounced the "weaponization" of the federal government against Trump. He was a political outsider until he decided to run for president in 2015; Trump served a four-year term as president after winning the 2016 election.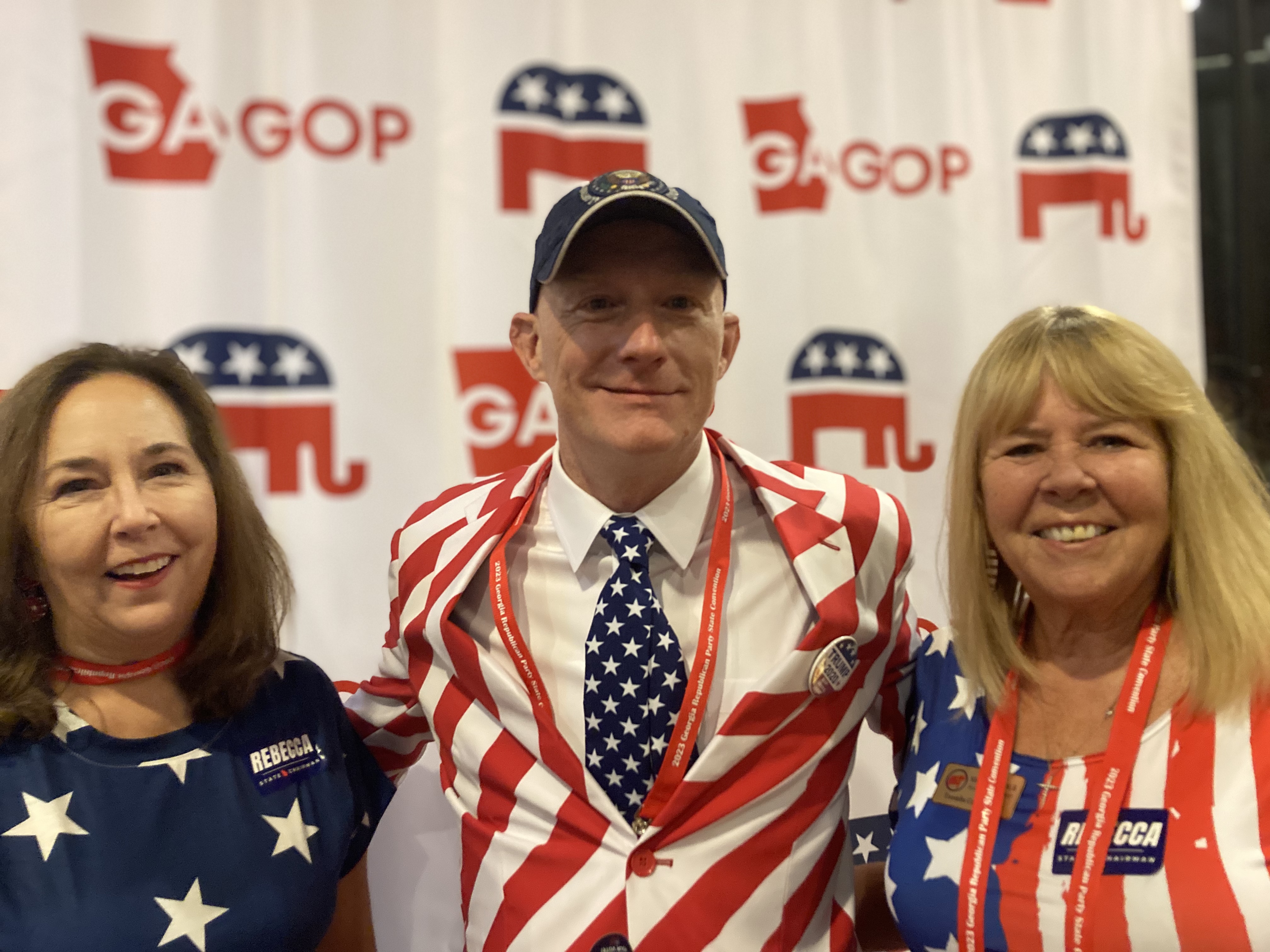 Sisters Shannon Hall (L) and Shari Poole (R) flank Cliff Rhodes (C) at the Georgia GOP Convention in Columbus, Georgia, on June 9, 2023. (Janice Hisle/The Epoch Times)
Trump's fights are pushing previously hidden issues to the forefront, Lake said. As a result, many people–even Democrats and Independents–are beginning to "wake up" to problems with America's voting systems and its justice system, Lake said, citing recent polls reflecting concerns about election fraud or corruption.
No matter what investigations Trump has faced, "we just love him even more," Lake said.
"He has the will to fight because he loves this country…and if you do not love President Trump for what he sacrificed and has given up for this country, I hate to tell you this, but it means you're a victim of brainwashing."
Lake said she had a message for Biden, Attorney General Merrick Garland and Special Counsel Jack Smith, who pressed the government records case against Trump.
"If you want to get through to President Trump, you're going to have to go through me–and you're going to have to go through 75 million Americans who are just like me," Lake declared.