THE AMERICA FIRST NEWS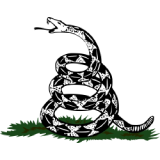 Sep 27, 2023  |  
0
 | Remer,MN
Sponsor: 
WISH-TEXT.COM
 Craft Personalized Messages With Ease! Wish It? Text It!
Sponsor: 
WISH-TEXT.COM
 Craft Personalized Messages With Ease! Wish It? Text It!
---
---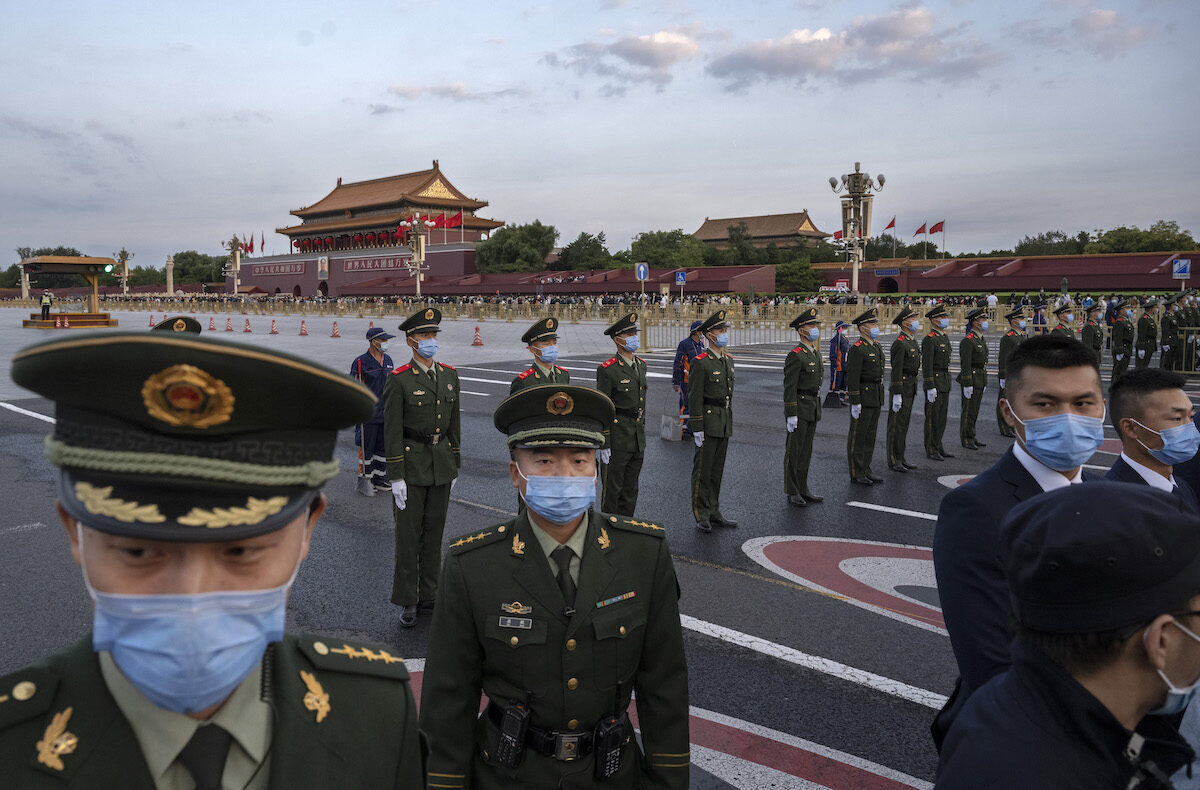 The Chinese Communist Party (CCP) passed its newly revised anti-espionage law, which will come into effect on July 1 this year.
The revision has expanded the definition of espionage, making it broader and vaguer. Human rights observers believe that it is an escalation in the repression of the Chinese people and will be used to further target foreign individuals and companies in China.
The regime's rubber-stamp legislature published the revised law on its website on April 26. It was the first modification from its November 2014 release.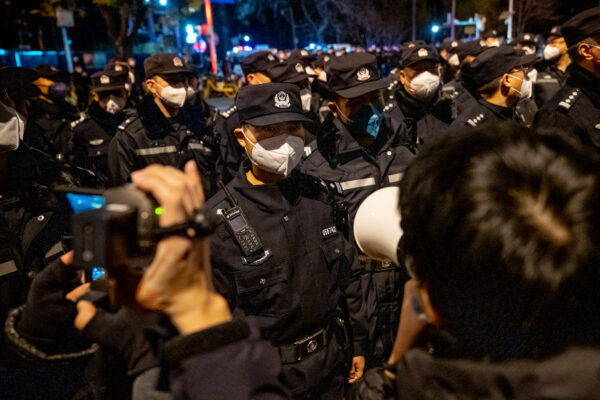 Police officers stand guard during a protest in Beijing, China, on Nov. 28, 2022. (Bloomberg)
The expansion of the law's definition of espionage has attracted much attention from the outside world. For example, the scope of subjects of stealing secrets is expanded to "other documents, data, materials, and items related to national security and interests."
The newly revised anti-espionage law also classifies selling out to espionage organizations and their agents as espionage, as well as "conducting cyberattacks against state organs, secret-related units, or key information infrastructure" as espionage.
The new revision also includes "establishing a management system for key anti-espionage and security units."
Nikkei, a Japanese media company, reported that China's restriction of the transmission of any information related to national security under the updated anti-espionage law had sparked concerns that the CCP is stepping up its targeting of foreign individuals and companies. The expanded law would lead to arbitrary law enforcement, such as detaining individuals without concrete evidence.
An executive at Japan's Astellas Pharmaceuticals' Beijing office was arrested last month over alleged espionage. The incident has shaken the Japanese business community, with some companies already reassessing risks and halting business travel to China.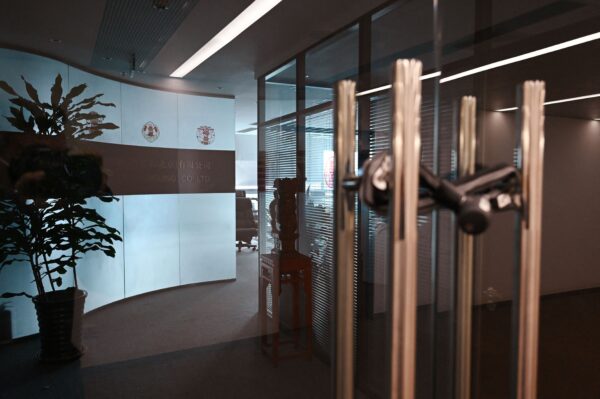 The closed office of the Mintz Group is seen in an office building in Beijing, on March 24.  (Photo by Greg Baker/AFP via Getty Images)
Chinese authorities raided the Beijing office of Mintz Group, an American investigation firm, in March and detained five Chinese employees.
Chinese police had gone to the Shanghai office of Bain & Co., a U.S. consulting firm, and questioned the employees there and took away computers and mobile phones, as confirmed by a spokesman of the company on April 26.
Mr. Huang, an executive of a foreign company in Hong Kong, told The Epoch Times on April 27 that the revision of the CCP's anti-espionage law may have a greater impact on companies and employees in the three types of businesses.
"The first type is those whose business in China involves investigation or those who have accounting capital review business, such as Deloitte and other four major accounting firms. They may have some sensitive information. The second is the investment analysis report companies," he said. "The third type is enterprises that have cooperation or economic and trade exchanges in medical biotechnology and software in China."
Huang said that most Western countries have national security laws and anti-terrorism laws, but China is not an international legal system. Rather, it is a socialist legal system incompatible with most international laws commonly used in the world "because the CCP's legal operations often violate human rights, foreign companies, and their employees will be very worried."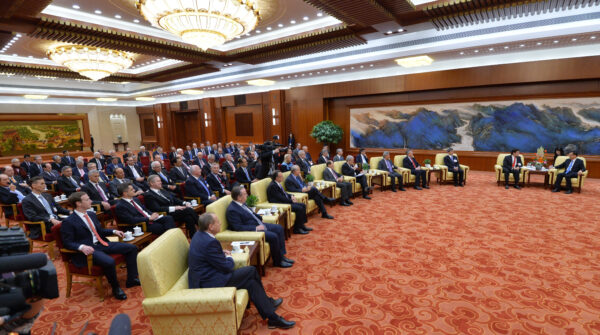 Overseas representatives of China Development Forum, including Mark Zuckerberg, Facebook CEO (L), attend a meeting at the Great Hall of the People, on March 21, 2016. (Kenzaburo Fukuhara/Getty Images)
On April 27, Chinese lawyer Yang Ming (pseudonym) told The Epoch Times that he believes "many foreign-funded enterprises and foreign investors will make an assessment based on the potential problems in current Chinese society, and they dare not easily come to China to invest."
Dong Yuyu, a former senior editor at China's official newspaper, Guangming Daily, was arrested by Beijing authorities last year while having lunch with a Japanese diplomat and has been charged with espionage. Dong had criticized the Chinese regime on several occasions. On April 24, his family commented publicly on the case for the first time, saying the allegations by Chinese authorities were fabricated to suppress dissent.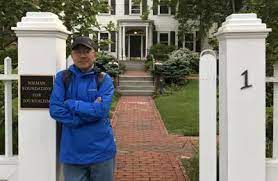 Chinese journalist Dong Yuyu in front of the Newman Foundation for Journalism in Harvard University, Cambridge, Massachusetts, in May 2017. (Dong family via AP)
Yang said that China's definition of espionage is very broad.
"What is espionage? Strictly speaking, espionage is an act proven by evidence that someone was trained by or benefited from an enemy or a hostile country to gather or provide intel for them," Yang explained. "But in reality, CCP defines espionage arbitrarily. If you do an economic survey or have a photo of a military base on your mobile phone, if you post it on the internet, the regime can define it as espionage."
Yang pointed out that the introduction of the expanded anti-espionage law, as well as the anti-terrorism law and cybersecurity law that the regime put out previously, are "all means by the CCP to strengthen its dictatorship and illegal rule, mainly to intimidate the common people.
"Because the credibility of the CCP has collapsed and the opposition from the Chinese people is increasing. So, it uses all-round legislation to prohibit the people from discussing the regime's propaganda based on fabricated history, prevent people from telling the truth, and suppress the resistance of the common people."
Ning Haizhong and Luo Ya contributed to this report.
Note: You can use @chatbot mention tag to interact with ChatGPT language model in comments. Neither your comment, nor the generated responses will appear in "Comments" or "News & Views" streams.