THE AMERICA FIRST NEWS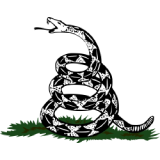 Oct 2, 2023  |  
0
 | Remer,MN
Sponsor: 
WISH-TEXT.COM
 Craft Personalized Messages With Ease! Wish It? Text It!
Sponsor: 
WISH-TEXT.COM
 Craft Personalized Messages With Ease! Wish It? Text It!
---
---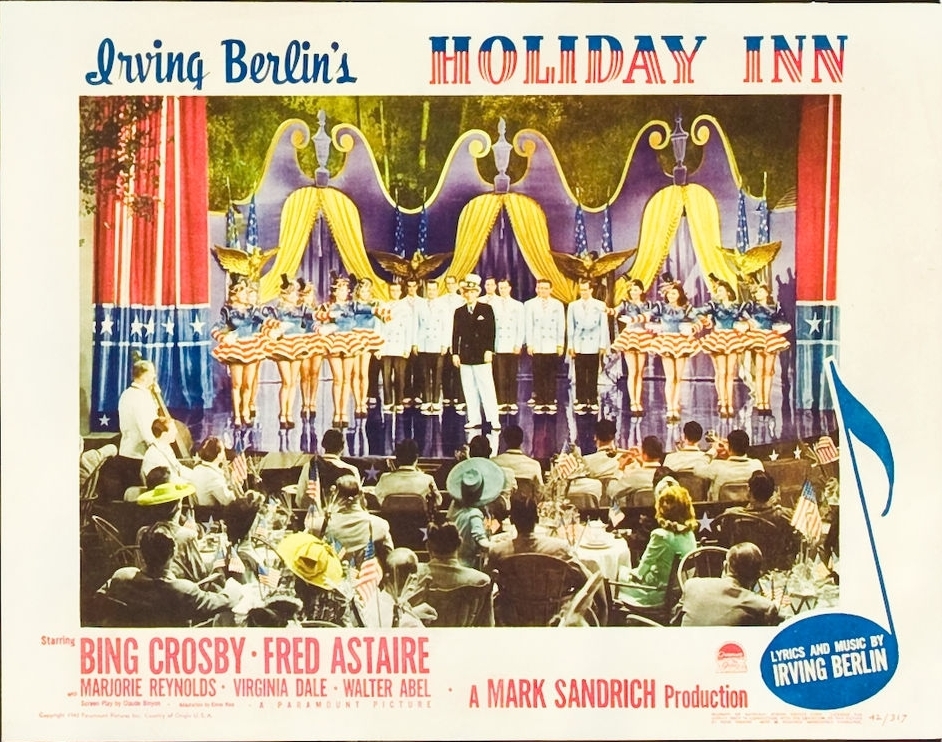 Are you looking for a New Year's movie? How about a Christmas film? Perhaps a story with a Valentine's Day, Thanksgiving, or Independence Day scene? There's probably only one movie which fits all these criteria, and it's "Holiday Inn" from 1942.
This holiday classic stars Bing Crosby and Fred Astaire in their first of two film pairings. This Paramount picture was conceived by Irving Berlin. He not only wrote the words and music for all the movie's songs, but he came up with the original premise for the story. According to IMDb, the composer got the idea for a play about multiple holidays after he wrote the song "Easter Parade" in 1933. That idea ultimately was the basis for this film.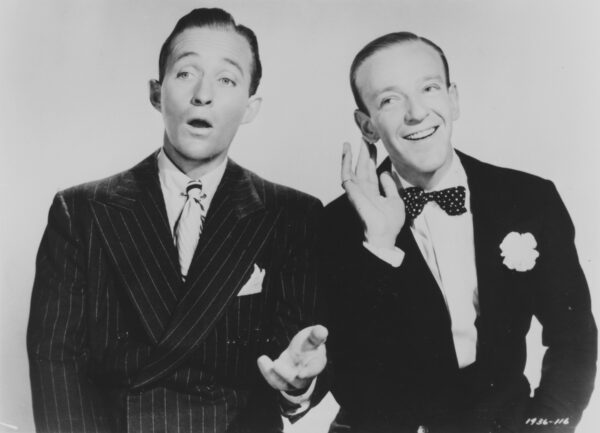 Bing Crosby (L) and Fred Astaire star in "Holiday Inn." (MovieStillsDB)
"Holiday Inn" is one of the most popular holiday movies of all time. Here's why it is the perfect movie to watch on seven holidays in 2023 besides Christmas.
Jim Hardy (Bing Crosby) and Ted Hanover (Fred Astaire) have a successful night club routine where they fight over leading lady Lila Dixon (Virginia Dale). Life imitates art as the best friends and co-stars are both in love with Lila in real life. Jim is engaged to Lila and plans for them both to quit show business after the Christmas Eve show so they can move to a farm in Connecticut, which he has purchased.
Little does he know that Lila has decided to go with Ted instead so she can stay in show business. The jilted Jim decides to become a farmer anyway while Lila and Ted continue performing bookings arranged by their eager manager, Danny Reed (Walter Abel).
After a year of farming, Jim realizes that country life isn't the lazy lifestyle he had anticipated. He decides to turn his farm into an inn, which he calls Holiday Inn and is only open on holidays. The main challenge is finding entertainers who are willing to work for a share of the profits on the unlikely scheme.
Linda Mason (Marjorie Reynolds), a girl from a flower shop, has show business aspirations. Learning that a new venue is opening and needs entertainers, she goes out to the inn on Christmas Day. She and Jim hit it off immediately.
On New Year's Eve, Holiday Inn opens with Jim and Linda starring in the themed entertainment. The same night, Lila leaves Ted for a Texas millionaire. The distraught and drunken Ted goes to Holiday Inn to commiserate with Jim, but in a hilarious scene he ends up dancing with Linda just after midnight. Their dance partnership is magical.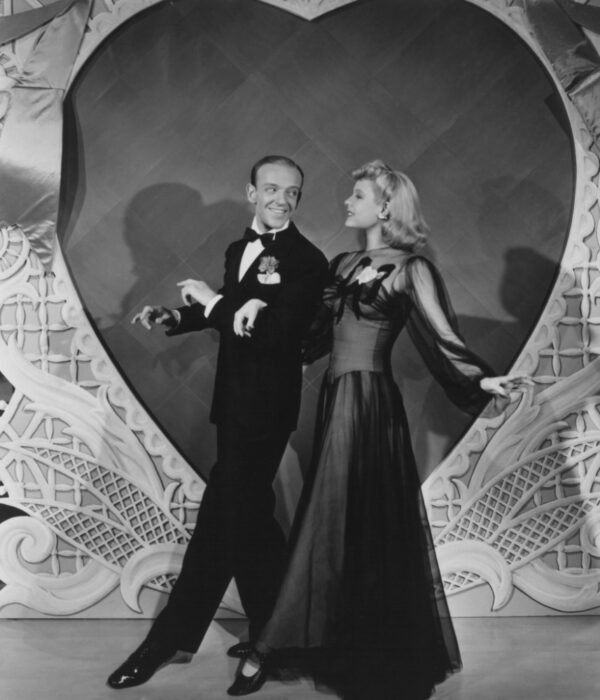 Ted (Fred Astaire) dances with Linda (Margorie Reynolds) in a romantic number, in "Holiday Inn." (MovieStillsDB)
Although Jim refers to 15 holidays in the dialogue, only eight holidays are shown. February is the busiest month for the inn, since it features three holidays in only 28 days! Valentine's Day is neatly bookended by the two holidays honoring U.S. presidents, Lincoln's Birthday on Feb. 12 and Washington's Birthday on Feb. 22. These holidays would later be overshadowed when Presidents' Day was federally implemented in 1968 on the third Monday of the month to make a long weekend.
In 1942, however, this movie celebrated the two most famous American presidents with individual songs in their honor.
The show on Lincoln's birthday features a Southern-inspired song called "Abraham." Centered around President Lincoln's freeing of the slaves, this elaborate number includes white performers, including Crosby, Reynolds, the chorus, and the band, in blackface. In the story, Jim uses this as a means to disguise Linda from Ted and Danny, but it's also a fond tribute to the beloved U.S. president who unified the country through his efforts in the Civil War and the Emancipation Proclamation.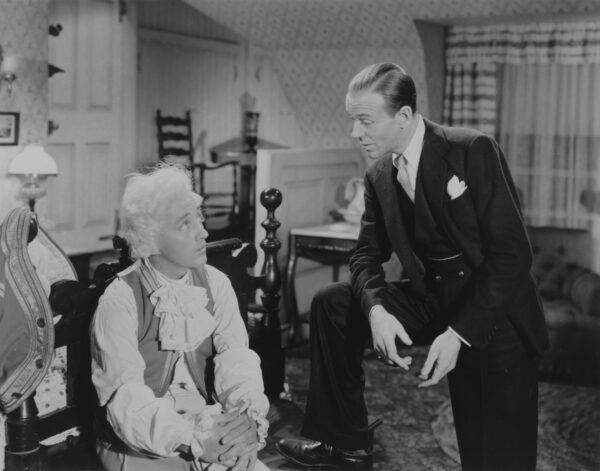 Jim (Bing Crosby, R) in wig with Ted (Fred Astaire), in "Holiday Inn." (MovieStillsDB)
By Washington's birthday, Ted has discovered Linda, and he is now her co-star in the show while a disgruntled Jim is relegated to playing the harpsichord. In an 18th-century costume piece, complete with powdered wigs and minuet-inspired dancing, Ted sings the song, "I Can't Tell a Lie," in homage to the story that George Washington never told a lie.
The wily dancer envisions the Baroque tune as a romantic number, but Jim foils his plans by leading the band to break into a snappy jazz segment every time they lean in for a kiss. The results are hilarious, but Jim certainly isn't emulating "the truthful he of the cherry tree" when he acts like the musicians are entirely responsible for these raucous outbursts! If you've ever wanted to see Fred Astaire doing the conga in a powdered wig, this is your opportunity.
"Holiday Inn" really is the perfect movie to watch any time of the year. From the beginning of the holiday season, Thanksgiving, through the end with two New Year's scenes, it's an obvious choice at Christmas. However, it's also appropriate in the spring for Easter or in the summer for Independence Day.
It's perfect throughout February because of its three holidays for that month, when a lot of the story takes place. Every holiday brings more music, singing, dancing, and fun from these great entertainers.
This film honors not just two but three U.S. presidents. In addition to George Washington and Abraham Lincoln, whose birthdays and legacies are honored in holiday songs, the current president in 1942, Franklin D. Roosevelt, is honored in the Fourth of July number.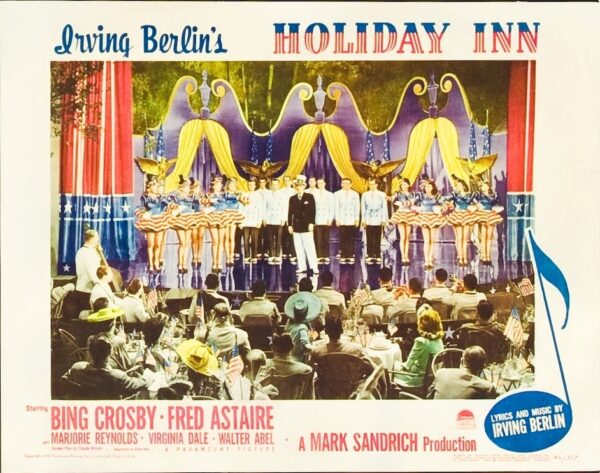 Lobby card for "Holiday Inn," one of the most popular holiday movies of all time. (MovieStillsDB)
This patriotic sequence, which was added after Pearl Harbor happened during the filming, includes footage of troops, munitions factories, and other preparations for war. It ends with footage of President Roosevelt speaking directly to the camera, doubtless from a newsreel. Although many disagreed with his politics, Americans of the 1940s respected and supported their current president.
This is a movie that deserves to be celebrated as a perfect combination of music, romance, and patriotism for "Presidents' Day" or any other holiday of the year.
'Holiday Inn'
Director: Mark Sandrich
Starring: Bing Crosby, Fred Astaire, Marjorie Reynolds
MPAA Rating: PG
Running Time: 1 hour, 40 minutes
Release Date: 1942
Rated: 5 stars out of 5
Note: You can use @chatbot mention tag to interact with ChatGPT language model in comments. Neither your comment, nor the generated responses will appear in "Comments" or "News & Views" streams.