THE AMERICA FIRST NEWS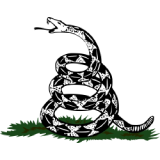 Jun 7, 2023  |  
0
 | Remer,MN
AM1.NEWS
The American Majority
The go-to-site for the news WE read. @am1_news
The go-to-site for the news WE read. : Created and operated in USA. Contact : support@am1.news : @am1_news
AM1.NEWS: The go-to-site for the news WE read : Contact: support@am1.news : Twitter @am1_news: The Internet of Us™ : AM1.NEWS
---
---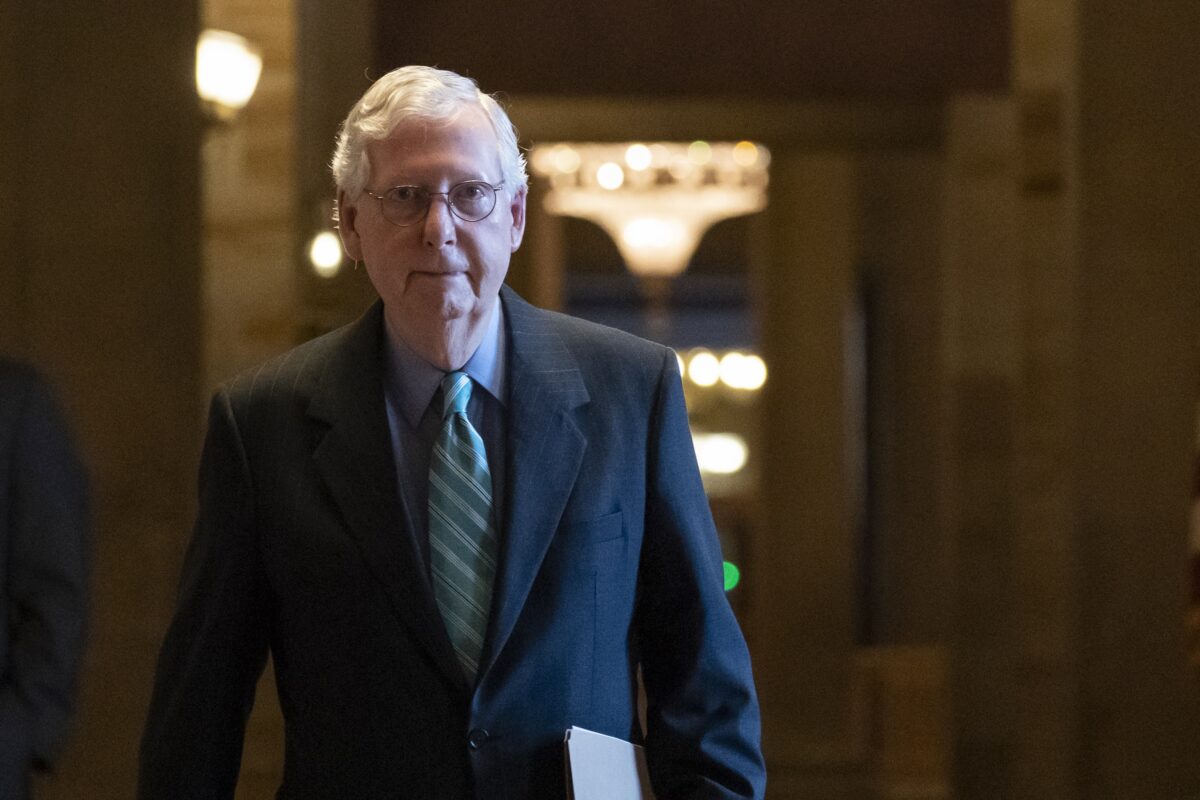 Senate Republican Leader Mitch McConnell (R-Ky.) told Western allies that reports about the death of Republican support for further involvement by the U.S. in the Russia-Ukraine war have been "greatly exaggerated."
McConnell delivered the remark on Friday at the Munich Security Conference that assembled heads of state, politicians, military officers, as well as security experts across the world. This year, nearly 50 lawmakers from House and Senate traveled to Germany for the three-day annual security conference, as part of the efforts to show bipartisan support for U.S. aid to Ukraine.
"I am a conservative Republican from America, and I come in peace! Reports about the death of Republican support for strong American leadership in the world have been greatly exaggerated," McConnell told conference attendees. Many conservative Republicans back home consider McConnell a moderate Republican.
"My party's leaders overwhelmingly support a strong, involved America and a robust trans-Atlantic alliance."
Read More
McConnell's remark came as several Republican lawmakers expressed skeptical over whether the U.S. should continue spending billions of dollars in the war. Earlier this month, a group of House Republicans introduced a resolution, urging the Biden administration to halt additional support for Ukraine. As his colleagues' comments dominated headlines, McConnell reaffirmed those in Munich that GOP leaders are committed to helping Ukraine.
"Don't look at Twitter, look at people in power," he said. The Senate minority leader pointed himself, House Speaker Kevin McCarthy (D-Calif.), top Republicans on powerful Senate and House committees, and also prominent officials in the previous Republican administration.
"Republican leaders are committed to a strong trans-Atlantic alliance. We are committed to helping Ukraine. Not because of vague moral arguments or abstractions like the so-called 'rules-based international order.' But rather, because America's own core national interests are at stake. Because our security is interlinked and our economies are intertwined."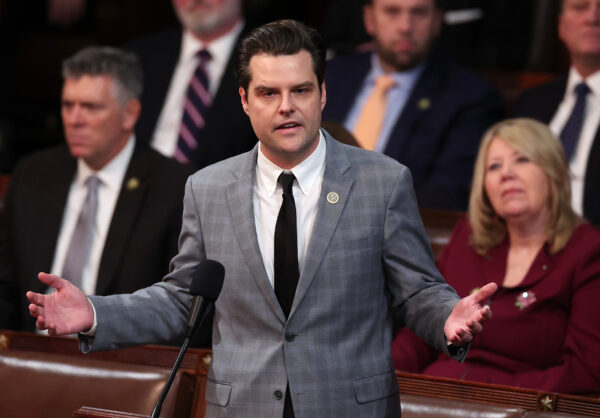 Rep.Matt Gaetz (R-Fla.) delivers remarks in the House Chamber at the U.S. Capitol Building in Washington on Jan. 6, 2023. (Win McNamee/Getty Images)
McConnell's comments came a week after Rep. Matt Gaetz (R-Fla.) unveiled a "Ukraine Fatigue Resolution." The resolution, co-sponsored by ten other House Republicans, stated that the U.S. "must end its military and financial aid to Ukraine" and urged  "all combatants to reach a peace agreement."
"America is in a state of managed decline, and it will exacerbate if we continue to hemorrhage taxpayer dollars toward a foreign war," Gaetz said in a press release.
Since Russia invaded Ukraine last February, the United States has been "the top contributor of military aid to Ukraine compared to its counterparts" and the Biden administration has spent over $110 billion taxpayers' money in financial, military, and humanitarian aid to its ally, according to the resolution.
The Pentagon announced the latest round of military aid on Feb. 20. The $500 million package includes a delivery of howitzer shells, anti-tank missiles, and air surveillance radars, but not the new advanced weaponry Kyiv is requesting, including jets. On Feb. 3, the U.S. passed another $2.1 billion package.
Testifying on the House floor on Feb. 6, Gaetz compared threats to U.S. citizens posed by drug outlaws in Mexico to those of Russian soldiers, and, what he believes, is an overeagerness to back a conflict that does not present serious and imminent peril to the United States.
"As the war slogs on in Ukraine, the benefits to Americans are unclear," Gaetz said. "Bandits in the Sinaloa Mountains hurt more Americans than the men in Crimea. But foreigners come to Washington to lecture us about spending our constituents' money on a conflict thousands of miles away, and my colleagues are eager to oblige."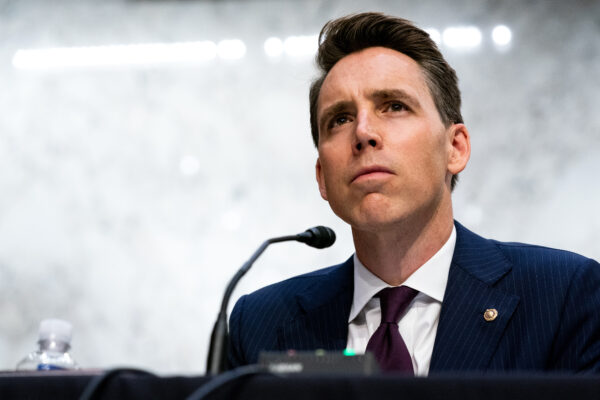 Sen. Josh Hawley (R-Mo.) listens while Supreme Court nominee Judge Amy Coney Barrett testifies before the Senate Judiciary Committee on the second day of her Supreme Court confirmation hearing on Capitol Hill in Washington, on Oct. 13, 2020. (Anna Moneymaker-Pool/Getty Images)
A leading Republican voice in Congress also expressed concerns that the United States had overextended itself with its support for Ukraine's defense against the Russian invasion, and that it would not be able to deter communist China without first pulling back from Ukraine.
"China is on the march and we are not at this moment prepared to stop them," Sen. Josh Hawley (R-Mo.) said during a Feb. 16 talk at the conservative think tank Heritage Foundation. "If China were to invade Taiwan today, they would prevail."
"The core problem is our actions in Ukraine are directly affecting our ability to deter our most pressing adversary in the Pacific," said Hawley.
Read More
The Chinese Communist Party (CCP) views self-ruled Taiwan as its own territory to be taken by force if necessary. The senator noted that Chinese leader Xi Jinping has repeatedly made claims swearing to follow through on that ambition.
But Sen. Lindsey Graham (R-S.C.) disagreed. In an interview with Reuters in Munich, Graham said the Chinese regime could be encouraged to invade Taiwan if the United States and its allies in Europe failed to defend Ukraine.
"If you care about China and you don't get the connection between Russia, Ukraine, and China, you are missing a lot," Graham said.
Andrew Thornebrooke, Ross Muscato, and Reuters contributed to this report.
Note: You can use @chatbot mention tag to interact with ChatGPT language model in comments. Neither your comment, nor the generated responses will appear in "Comments" or "News & Views" streams.