THE AMERICA ONE NEWS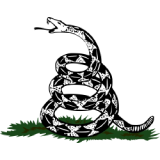 Nov 29, 2023  |  
0
 | Remer,MN
Sponsor: 
WISH-TEXT.COM
 Personalized AI Greeting and Sympathy Cards for the Social Media.
Sponsor: 
WISH-TEXT.COM
 Personalized AI Greeting and Sympathy Cards for the Social Media.
By Michael La Corte Deputy Food Editor
---
---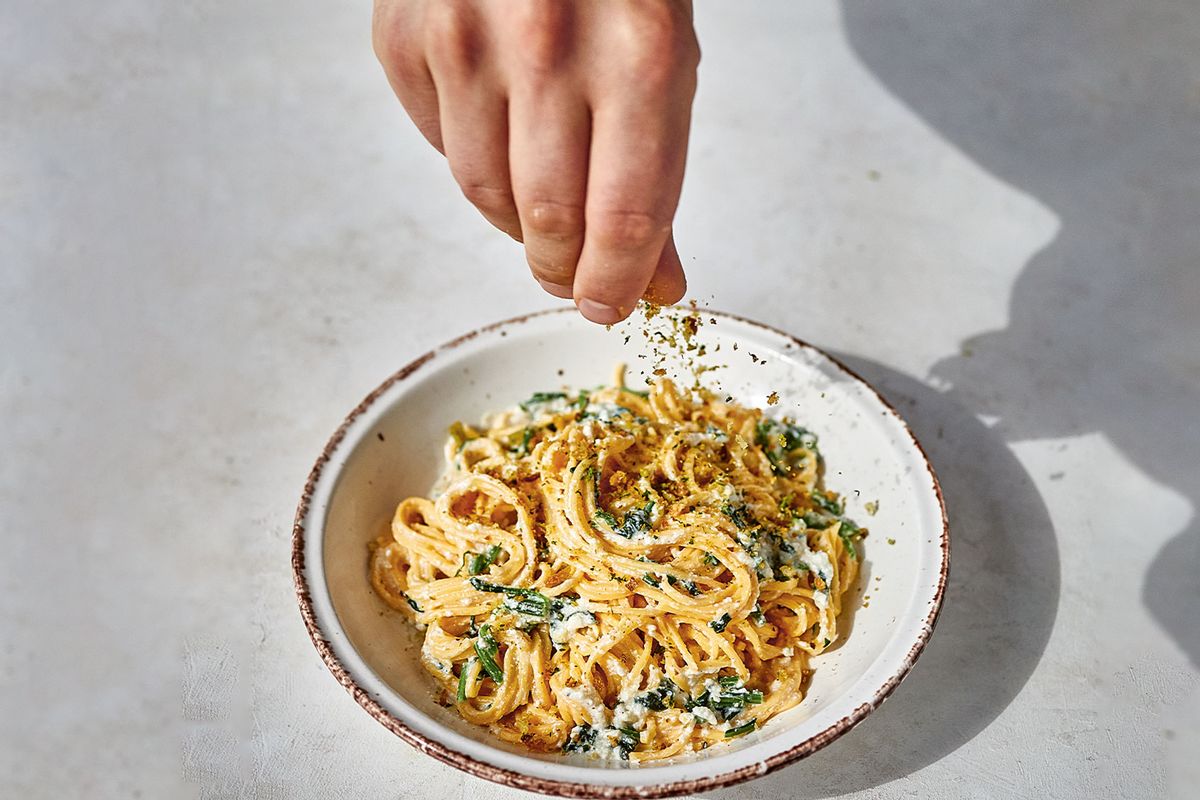 Dubbed "The Pasta Man" by his hordes of fans and adherents, Mateo Zielonka has had a meteoric rise within the realms of food — and of course, pasta, specifically. 
Zielonka details his journey on the homepage of his website: "When I first arrived in London from Poland I had only packed for a two-week trip, I had only packed for a two-week trip, but I ended up taking a job in the kitchen at Mischkins, a Jewish deli in Soho. I'd never really cooked anything before and I only had one cookbook – "The Sopranos Family Cookbook," a birthday present I got when I was 17 – but I felt completely at home in the kitchen. I loved the buzzy atmosphere, the people, discovering new foods, and so I ended up staying."
(Fun fact: I bought that same cookbook for my brother for Christmas a few years back; it's "compiled by Artie Bucco" and that alone should sell you on it.)
Since then, Zielonka has explored various kitchens and restaurants and is currently the head chef at 180 Studios in the Strand in central London. His new cookbook, "Pasta Masterclass" is stunning, comprehensive and amazingly thorough, even encompassing QR codes to give visual aids for readers as they begin to tackle the myriad beautiful pastas in the book. In addition to homemade pastas, Zielonka also includes flavorful sauces, garnishes, toppings and sides to help round out your homemade pastas in the best ways. 
Read ahead for more on making pasta at home, why you shouldn't be spooked about doing so and how to feel confident in your newly acquired pasta-making skills, all courtesy of "The Pasta Man" himself.
The following interview has been lightly edited for clarity and length.
What are your favorite pasta dishes? 
My favorite filled pasta is tortelli con la coda, filled with salmon, capers and herbs. It's a special dish, so I save it for special occasions. For a more everyday pasta, I love a slow-cooked tomato sauce (either using tinned tomatoes or fresh when they're plentiful and sweet). I serve it with spaghetti chitarra and a portion of burrata if guests are there, too.
What began your love affair with pasta?
I started making pasta at a busy London restaurant and fell in love with all the process and the range of ways it can be served.
What do you think would be a great starter recipe or dish for a beginner? 
I always say simple is best, so if you have a pasta machine then making tagliarini, tagliatelle or pappardelle is the simplest pasta shape. If you don't have a pasta machine, start with malloreddus. Either way, try serving with pesto trapanesse.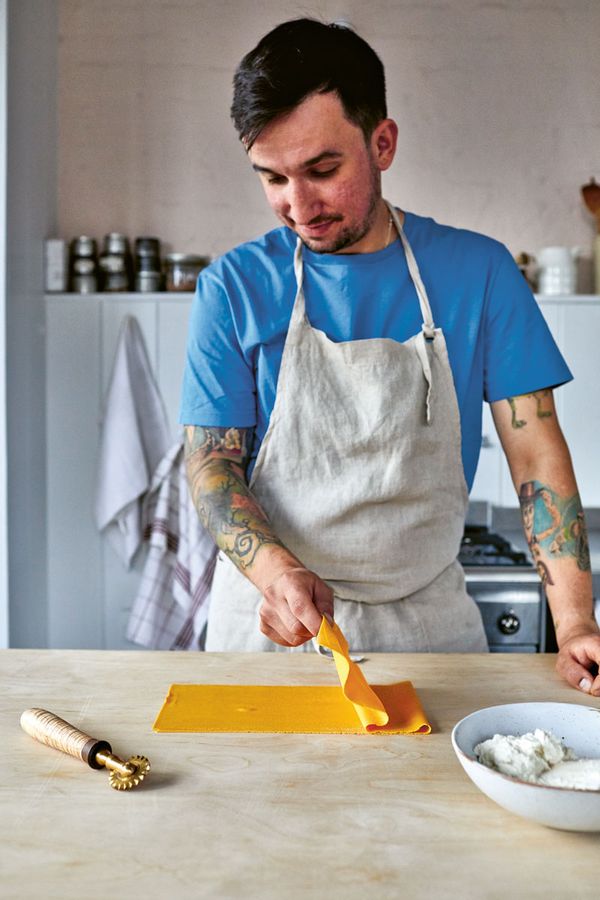 Mateo Zielonka (Photo courtesy of Dave Brown)
What's your favorite under-utilized pasta shape? 
I love culurgiones, from Sardinia. They're tricky to make, but so worth persisting with because they are beautiful and extremely tasty – filled with potato, mint, garlic and cheese.
Are there any pasta cooking "myths" you'd like to debunk? 
Don't put any oil in your pasta cooking water (you really don't need to) and never drain all of the water after cooking. You need this beautiful starchy water to add to the sauce and help it cling to the strands of pasta. 
What are some top tips for pasta beginners?
Just start! It's fun, it doesn't have to be perfect, and look for videos to help you learn. There's plenty of shaping videos on my website.
Want more great food writing and recipes? Subscribe to Salon Food's newsletter, The Bite.
Where did the name "the Pasta Man" come from? 
I posted lots of pictures on Instagram when I was first making pasta at home. I was learning, improving my technique and sharing the images online. I was obsessed! That's when people started calling me the Pasta Man as I never posted pictures of anything else.
How are the QR codes incorporated into the book? 
The QR codes link to shaping videos which help people to understand the step-by-step process of pasta making. I think very visually, so they are the best way for me to share the information.
The caramelle on the book cover are stunning! What recipe/dish are they used in? 
There are two caramelle recipes in the book. One is filled with sweet potato and goat cheese, the second is filled with duck and served with pickled rhubarb. 
Tell me about your fascination with multi-colored pastas? They are so striking.
Making pasta is so relaxing for me. It's such an absorbing process and many people say they find it good to work with their hands to create something – whether that's food or anything else creative. Adding color to the process adds an imaginative dimension, which I just love as it feels challenging, as well as creative and fun.
What are some ingredients that you like to use in your pasta dishes that might seem unusual or unique? 
I've mentioned pickled rhubarb above. I've used seaweed, miso, cod . . . often, I'm looking for a twist on a more conventional recipe, but I try to stick to my own advice that simple is best. It's too easy to overdo something.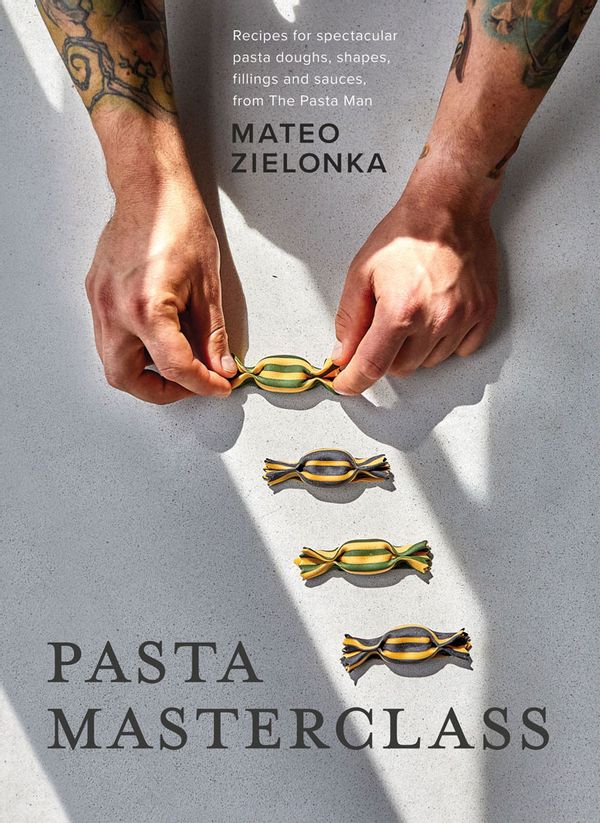 Pasta Masterclass by Mateo Zielonka (Photo courtesy of Dave Brown)You can purchase Mateo Zielonka's "Pasta Masterclass" here!
Tagliarini with Creamy Ricotta, Lemon and Spinach
Once, when I was talking to my friend Guiseppe in the kitchen, he told me that his mum often served him spaghetti with ricotta sauce when he was a kid, a fond childhood memory that made us both smile. In my version, I've added chopped spinach and nutmeg to give the sauce some body, and because I'm always looking for ways to add greens to a meal. 
Ingredients
400g/14oz tagliarini (page 78) [in the book]
45ml/3 tbsp olive oil
2 garlic cloves, finely chopped
2 small shallots, finely chopped
½ nutmeg, grated
200g/7oz spinach leaves, washed and chopped
350g/12oz ricotta
grated zest of 2 lemons, plus juice of ½ lemon
45g/1½oz Parmesan, finely grated
pangrattato (page 248) [in the book], to serve
Directions
In a large saucepan, heat the olive oil and fry the garlic for 1 minute until fragrant, then add the shallots and cook on a medium-low heat for 5 minutes. Grate over the nutmeg and cook for a further 3 minutes to let the shallots absorb the aromatic flavor. Add the spinach along with 1 tablespoon of water, cover the pan with a lid and cook for a further 2 minutes until the spinach has wilted. Set aside to cool.

Combine the ricotta, lemon zest and Parmesan in a large bowl.

When the spinach is cool enough to handle, remove the excess liquid by squeezing it with your hands, then add it to the bowl of ricotta and combine everything together with a wooden spoon.

Bring a large pan of water to the boil and season generously with table salt. Take a ladleful of the boiling water and add it to the ricotta and spinach mixture, stirring it in to create a loose, creamy sauce. Now transfer this to a large saucepan and set it on a really low heat, keeping the sauce warm rather than cooking it.

Carefully drop the tagliarini into the boiling water and cook for 1 ½ minutes, then use tongs to lift the pasta into the sauce. Toss to mix it well. If the sauce is too thick, simply loosen it with more pasta cooking water. Squeeze over the juice of half a lemon and season to taste with sea salt and freshly ground black pepper.

Serve into four warmed bowls, with a generous sprinkling of pangrattato on top and a large dish of garlicky sautéed broccoli on the side.

 
Read more
about this topic