THE AMERICA ONE NEWS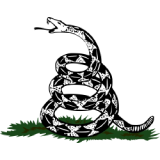 Dec 9, 2023  |  
0
 | Remer,MN
Sponsor: 
WISH-TEXT.COM
 Personalized AI Greeting and Sympathy Cards for the Social Media.
Sponsor: 
WISH-TEXT.COM
 Personalized AI Greeting and Sympathy Cards for the Social Media.
By Stacy Jane Grover
---
---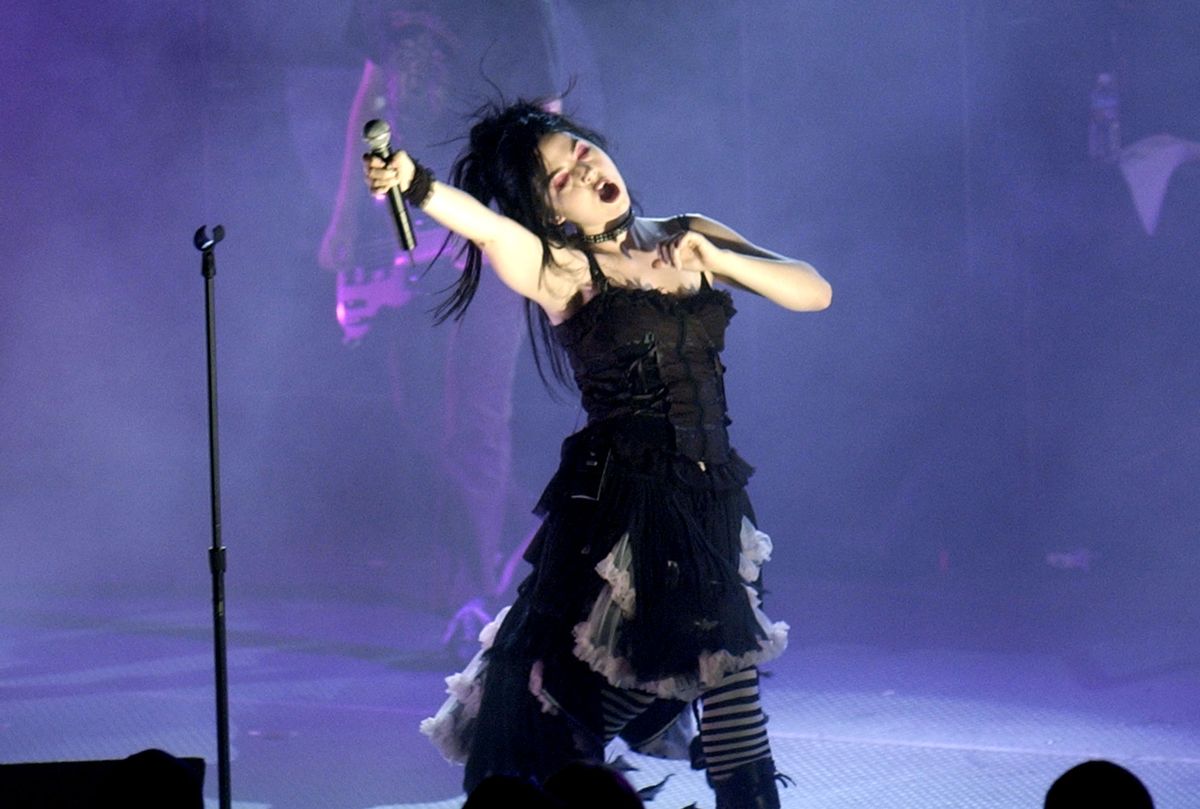 The winter I became a teenager, I celebrated my birthday three weeks late by seeing the film "Daredevil" at the local mall with my best friend. I was not a fan of superhero films or comics. I did not transport into the worlds they offered or find mine transformed from theirs. I did not fit in with the masculine fans of either, but I braved the crowds of them for something that had opened a new world into which I could escape, that voiced feelings I had yet to name. I saw the film to hear Evanescence on the soundtrack.
The rural village my family had lived in for generations did not know what to do with me and I didn't know how to live in it. 
My preteen years were marked by sudden ruptures: the second coming failed to manifest with the Y2K computer bug, my family left our church and the deeply sheltered evangelical world in which I was raised, I left my Christian school in the city for the public school in my tiny rural village, and as I began understanding secular pop culture and fitting in with the cisgender girls I befriended, puberty and its engendering social effects suddenly separated us. 
Then 9/11 happened, splitting the world into even more binaries: those who supported evil or were against it, us versus them, those who belonged and those who did not. I tried to find some acceptable way of fitting in, but I failed. I spent time wandering in the woods or sitting in the barn reading. I spent time alone inside playing piano or helping cook dinner and learning to sew. After experiencing numerous deaths — family members, kids at church, and in my village — I expressed my morbid curiosity too openly. My teachers told me I possessed an overactive imagination and that I was too sad, too quiet and too shy. The rural village my family had lived in for generations did not know what to do with me and I didn't know how to live in it. 
When Evanescence's debut album "Fallen" came out on March 4, 2003, I took the album everywhere with me, letting it guide me. The songs on the album dealt with "longing, sadness, solitude, anger, and pain," as Amy Lee said in a Rock Sound interview. For me, "Going Under" spoke to the shame of swallowing the life others forced me into.
In the song, Lee sings, Going under, drowning in you, Falling forever, I've got to break through.
"Bring Me to Life" – the song I first heard on the "Daredevil" soundtrack – pierced through the shell I had formed to protect myself against the world. My spirit's sleeping somewhere cold/until you find it there and lead it back home. "Everybody's Fool," written about the superficiality of the bubblegum pop industry at the turn of the millennium, told me that I needed to stop pretending to fit in. Without the mask where will you hide/Can't find yourself lost in your lie.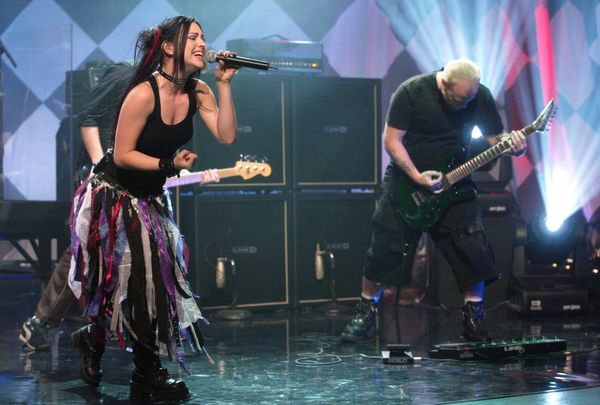 Evanescence, with singer Amy Lee, performs on "The Tonight Show with Jay Leno" at the NBC Studios on July 8, 2003 in Burbank, California (Kevin Winter/Getty Images)
Each track named a chasm in my life and paved a path out of it.
The song "Tourniquet" helped me shed the ghosts of my evangelical past as it questions the forgiveness purported within Christianity. My soul cries/for deliverance/Will I be denied/Christ? "My Last Breath," which Amy Lee and Ben Moody wrote in response to 9/11,  expressed the grief I held and the isolation I experienced in my tiny rural village. I'll miss the winter/A world of fragile things/Look for me in the white forest/Hiding in a hollow tree. "Hello," which Amy Lee wrote about the death of her sister at three years old when Lee was six, told me that I could be open about loss. 
Each track named a chasm in my life and paved a path out of it. I typed and printed out the song lyrics from "Fallen" and pasted them on my walls. I memorized them and spoke them like ritual magic, letting them transform my world. When the U.S. invaded Iraq two weeks after "Fallen" was released, and the heightened suspicion and rigid taxonomies that defined social life pushed out all differences, I surrounded myself with a protection spell, with words to guide me through the world. I filled secret notebooks with stories I showed no one. I spent school days memorizing what I wrote in my head so I could write them down after school, away from the teachers and kids on the bus. I had this other thing, and through it, I found a connection with others like me.
Evanescence was the impetus for my first ventures online. I had to walk miles through winding county roads to my best friend's house to use his dial-up, but EvThreads and the other Evanescence message boards we discovered led us to a vast community of people talking openly about gender and sexuality. In the gothic literature forums discussing Anne Rice's vampires, Frankenstein's monster, and cryptids, I discovered that bodies could morph, cross boundaries and blur categories. These stories were so different from mine and contained so much more possibility. My stories featured characters like a lonely boy who longed for the girl across the river who he could only see in the water's reflection, and the lonely girls trapped in the mountains who spoke only to animals. But the characters in these other stories morphed and transformed, defying categorization and confinement. 
I wrote new worlds into existence with the new scripts I found – boys that could transform into girls, girls who loved other girls — and I shared them with others on the message boards who accepted them and helped me shape them. And as I refashioned the world online, I refashioned myself offline. I dyed my hair black and I hid black dresses and miniskirts under baggy Tripp pants and band shirts. 
All anybody saw me was a girl in front of a band; a girl with some man behind her doing all the work.
Day after day, I returned to those forums to read and write. I had recently learned the word transgender, and as I looked at myself with long black hair wearing skirts and makeup, and at pictures of Amy Lee in a corset and pants, I knew that, as she said about the band's classical/rock hybrid sound, "the product of these two extremes combining" could apply to the very personal transformation I was enacting. I came out to myself, my close friends, and those strangers online. As soon as I was safe with them, online in our digital worlds or offline in dark basements or barns or fields, I would wear those dresses and miniskirts openly.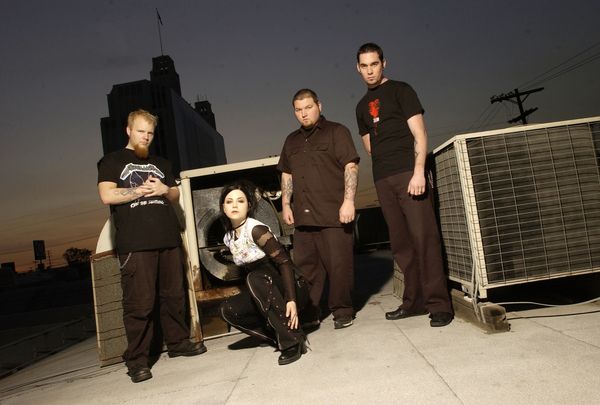 Evanescence band photo shoot (Annamaria DiSanto/WireImage)The Evanescence message boards helped me navigate the offline world in my new self. Through articles about Amy Lee's struggles with the music industry that were copied there, I learned about structural injustices, these forces that piled on me and everyone I knew, that made us feel powerless. I learned the meaning of feminism, and how to fight against misogyny through Amy Lee telling her story of struggling in the music industry. 
The media did not know what to do with a woman who played piano in rock music. Radio stations wouldn't play Evanescence until fans like me wrote or called local radio stations and demanded to hear them. The band's record label tried to force a man to rap in the band full-time, and when Amy refused, the label sent the band home, but agreed to reinstate their contract if a man could rap on "Bring Me to Life." When co-founder Ben Moody left the band mid-tour, the record label tried to bring in men to write songs for the band and to guide Amy since a woman couldn't lead a successful rock band. "I had to fight for everything I wanted and got treated like a child," Amy Lee said in an interview for MetalHammer. "All anybody saw me was a girl in front of a band; a girl with some man behind her doing all the work." 
During her time writing 'Fallen," Amy Lee said she was "in an abusive relationship" for three years. "But I'm not scared anymore," she told Melissa Maerz in an interview for SPIN. "I feel like I can stand up and fight for myself. I'm not afraid the world is going to end anymore." 
I talked about these issues with my friends and the other teens we met at the nearby mall. We bonded over the full spectrum of genders and sexualities we represented, the ways we didn't fit in at school or in the social climate of our rural village. We voiced something we might have called solidarity, and I learned a new way to exist where I previously felt so out of place. 
That song broke past my defenses to all I'd hidden away to that girl I was when I first heard the song, the one who held all that vulnerability and courage to try something different.
As the years passed, Amy Lee wrote and released the hugely successful Evanescence albums "The Open Door" and "Evanescence" while dealing with lineup changes, a stalker fan, lawsuits with the record label, her manager, and her management company. Then the label shuttered, the band's catalog was sold, and Evanescence was freed from their label contract. After the third album, Evanescence entered a hiatus. 
I grew up and experienced more of life and became engaged in similar struggles as I left my teen years. I became entangled in an abusive relationship in which I found myself hiding, changing my sense of self and my gender expression, to fit someone else's image. I stopped writing and to protect that other precious world, I stopped visiting the Evanescence message boards. And during my time away those websites disappeared along with the worlds we created there.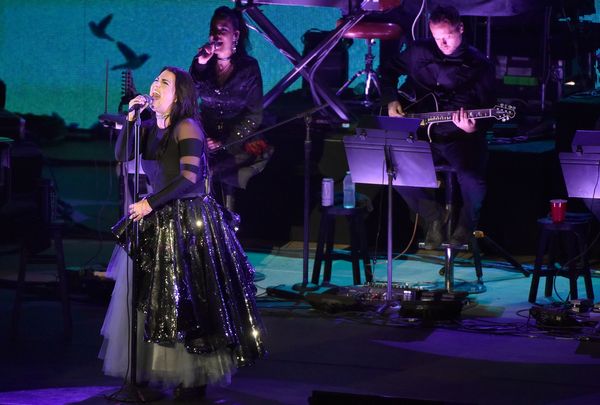 Amy Lee of Evanescence performs during the "Synthesis Tour" at Shoreline Amphitheatre on September 5, 2018 in Mountain View, California (Tim Mosenfelder/Getty Images)When I finally escaped that relationship and found someone who affirmed and fulfilled me, I came out publicly and began to medically transition. Then my best friend died, and "Fallen" became his requiem. I entombed all of the memories we'd amassed since childhood in that album and stuffed it away in a closet shoebox. I didn't think I'd ever write again; I didn't know how without him. 
After a six-year hiatus, Evanescence returned with the album "Synthesis," composed mostly of orchestral reworkings of old material. "Synthesis" is "a retelling of our history, and yet it's something completely new," Amy Lee explained in an interview for the album. "It's an opportunity to show our growth." The band released a new version of "Bring Me to Life," and as it did before, that song broke past my defenses to all I'd hidden away to that girl I was when I first heard the song, the one who held all that vulnerability and courage to try something different. The album was my permission to remake myself, to try again. Though those message boards and Evanescence fan sites on which I first found my voice had disappeared, the experiences I had there encouraged me to write and share my work in magazines. But the internet had changed from one that fostered connection to one that fuels discontent. The transphobic pushback of a social and structural climate that says voices like mine shouldn't exist made me leave social media entirely. 
Want a daily wrap-up of all the news and commentary Salon has to offer? Subscribe to our morning newsletter, Crash Course.
Then in 2021, the band released "The Bitter Truth." The album had a clear message about resisting, creating together, finding solidarity in being different, in standing up for the right to exist. "I'm not gonna worry and change what I believe or who I am because somebody might misunderstand," Amy Lee said in an interview with NME. I became more determined to represent my life against the forces that want to silence transgender voices. I wrote a book that features Evanescence, the online community I found because of them, and that young version of me who knew the person she wanted to be, the person I am still trying to become. I knew how to open myself emotionally and find the courage to write her story because I had a blueprint. And it all started in the mall theater, with two songs on the soundtrack of a terrible superhero movie that led me to a space and a fan community that helped me find and use my trans voice.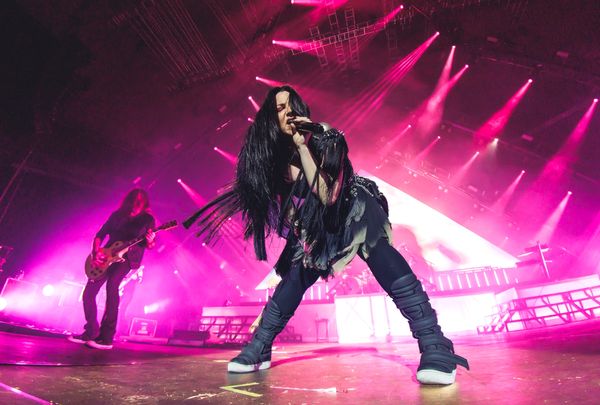 Amy Lee of Evanescence performs at Palacio Vistalegre Arena on December 14, 2022 in Madrid, Spain (Javier Bragado/Redferns)
After 20 years, "Fallen" endures. "Bring Me To Life" has reached over one billion views on YouTube. "My Immortal" is not far behind. The album has been certified Diamond in the US for over 10 million copies sold. Songs from the album appear on TikTok, as does the fashion of the Y2K era. Though as I celebrate the serendipity of the 20th anniversary of Evanescence's debut album coinciding with my debut book release, I worry. Y2K pop culture has not returned without the same social constriction and political turmoil of the era into which "Fallen" was first released. I hope those young people who connect over the album today can find spaces online that will lead them to who they need to be, and the people to help them become their true selves. I hope they too can create enduring testaments to the triumphs and struggles of personal transformation amid chaos.
But who can decide what they dream?
and dream I do
I believe in you.
Read more
about this topic