THE AMERICA FIRST NEWS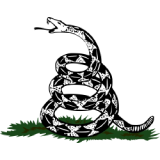 May 29, 2023  |  
0
 | Remer,MN
AM1.NEWS
The American Majority
The go-to-site for the news WE read. @am1_news
The go-to-site for the news WE read. : Created and operated in USA. Contact : support@am1.news : @am1_news
AM1.NEWS: The go-to-site for the news WE read : Contact: support@am1.news : Twitter @am1_news: The Internet of Us™ : AM1.NEWS
---
---
"When Republicans — extreme Republicans, these MAGA Republicans — don't agree with an issue or with policy, they don't bring forth something that's going to either have a good-faith conversation. They go to this conversation of 'woke.' But that is not actually policy," Jean-Pierre said from the White House briefing room Friday.
"What that turns into is hate. What it turns into is despicable policy. And it's just not the way we're going to move forward," she added.
FLORIDA BILL WOULD RESTRICT GENDER PRONOUNS IN SCHOOLS, DEFINE BIOLOGICAL SEX AS AN 'IMMUTABLE' TRAIT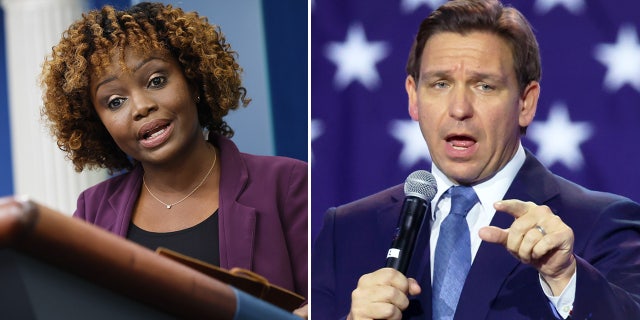 Jean-Pierre suggested that DeSantis' initiatives are not motivated by "protecting freedoms" or "having a good-faith conversation on how we can move the country forward."
"This is about attacking, talking about attacking young kids and their parents because of how they view themselves, because of how they see themselves, because of how they want to live," she said of certain education policies pushed by the DeSantis administration. "What does that have to do with anything about being woke? That is just hate. And it is shameful. . . . We're going to call it out."
Responding to the White House's remarks, Bryan Griffin, DeSantis' press secretary, wrote in a tweet: "Here are the Florida policies that [Jean-Pierre] labels as 'despicable': No porn in schools, Preserving the innocence of children, [and] Keeping public education free from sexual content, radical gender ideology, and racial discrimination."
Jean-Pierre has taken aim at DeSantis on multiple policy issues in the past, including the conversation surrounding massive illegal immigration to America.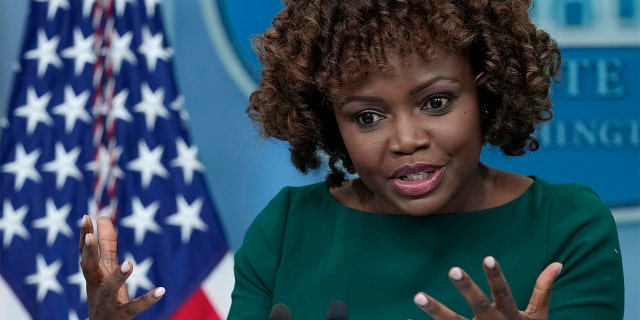 In January, Jean-Pierre claimed that DeSantis has made a "mockery" of the immigration system with his "political stunts" after he deployed the National Guard to deal with what his office referred to as "an alarming influx of migrants" landing in the Florida Keys.
Jean-Pierre also dismissed a recent op-ed by DeSantis after he terminated Disney's self-governing status and special tax treatment in his state, telling one reporter last week that she had "not read the op-ed and frankly, I don't plan to."
Reuters correspondent Nandita Bose pointed out that Disney had been "able to get away without paying taxes around regional infrastructure developments" before DeSantis took action, but Jean-Pierre deflected to other topics.
During his tenure as governor, DeSantis has signed or pushed multiple bills aimed at protecting children in Florida schools.
KARINE JEAN-PIERRE GRILLED FOR CLAIMING DESANTIS 'MADE A MOCKERY' OF IMMIGRATION SYSTEM: 'TALK IS CHEAP'
Last March, amid criticism from those across the political aisle, DeSantis signed into law a parental rights bill that bans teachers from giving classroom instruction on "sexual orientation" or "gender identity" in kindergarten through third grade.
The measure, dubbed by Democrats as the "Don't Say Gay" bill, does not ban the word "gay" in school settings, and it does not ban casual discussions of topics relating to sexual orientation and gender identity in the classroom.
A new bill from the Florida House of Representatives, which was introduced this month, also aims to restrict the use of gender pronouns in school.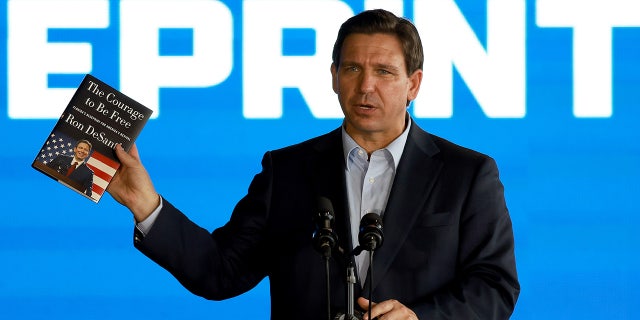 Filed on Tuesday, House Bill (HB) 1223 would define "sex" as "the binary division of individuals based upon reproductive function." Additionally, the bill would mandate that "a person's sex is an immutable biological trait" and "it is false to ascribe to a person a pronoun that does not correspond to such person's sex."
The bill also includes proposed changes to the Parental Rights in Education law introduced last year by Florida Gov. Ron DeSantis, aiming to restrict lessons and discussions of gender identity and sexuality through eighth grade — an increase from third grade.
Another Florida bill filed last week would require companies offering gender transition treatments to likewise cover an employee's detransition.
DeSantis, who is likely to enter the 2024 race for president and trails former President Donald Trump in multiple polls, has yet to announce his official plan. The president has also yet to announce whether he will seek re-election, though Jean-Pierre, as well as first lady Jill Biden, has said Biden intends to run again.
Fox News' Jessica Chasmar, Peter Aitken, and Gabriel Hayes contributed to this article.
Note: You can use @chatbot mention tag to interact with ChatGPT language model in comments. Neither your comment, nor the generated responses will appear in "Comments" or "News & Views" streams.