THE AMERICA ONE NEWS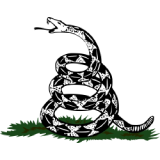 Dec 2, 2023  |  
0
 | Remer,MN
Sponsor: 
WISH-TEXT.COM
 Personalized AI Greeting and Sympathy Cards for the Social Media.
Sponsor: 
WISH-TEXT.COM
 Personalized AI Greeting and Sympathy Cards for the Social Media.
---
---
A man left passengers "gobsmacked and shocked" after he boarded a cross-country flight with his huge Great Dane along for the ride as his TikTok video of the event went viral. 
The owner paid for three seats — including his — so that he could get his pooch to fit properly on the flight, he said.
Owner Gabriel Bogner, 27, was traveling from Los Angeles, California, to New York City with his beloved dog Darwin, age five, as news service SWNS reported.
VERMONT DOG RELOCATED, UP FOR ADOPTION IN NEW JERSEY AFTER FLOODING THREATENS SHELTER
In the video, Darwin the Great Dane is seen boarding the flight, peering into the cockpit as he boarded the plane and is even seen poking his head forward to see the people sitting in the row in front of him.
The founder of a start-up, Bogner said he was traveling from Los Angeles International Airport to New York City's La Guardia — and said this was his dog's first plane ride.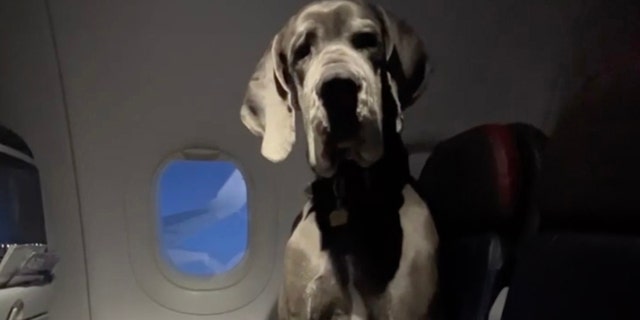 "People were absolutely gobsmacked and shocked but everyone was so excited to see her," said Bogner of his dog's airplane trip.
"I've never seen so many [people] smiling at an airport," he also said of his service dog. 
UNUSUAL FRIENDSHIP: BABY CROW TAKES A LIKING TO FIVE FAMILY BUNNIES, STICKS AROUND 
"This was rare, [as it was] her first time flying."
He said of the plane trip, "There were no issues. She was great and the entire crew was amazing."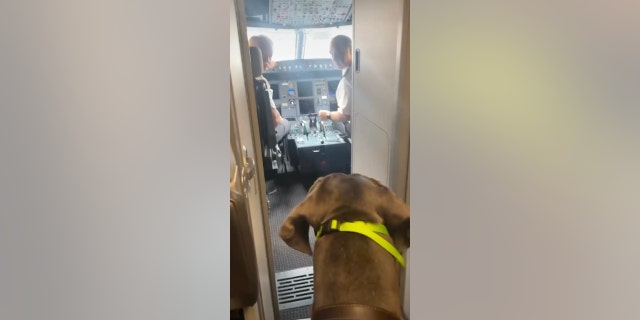 He added, "They did joke that she got an upgrade and I didn't — but it was a very smooth trip."
The footage was captured on April 28, as SWNS reported. 
When the owner posted a video on TikTok of his dog Darwin traveling by plane, it went viral; it has garnered over 17.9 million views and over 12,000 comments. 
One person wrote, "Instantly demanding a refund for my recent flight, which unreasonably lacked a Great Dane."
POLICE SPEAK OUT AFTER PENNSYLVANIA DOG IS ABANDONED AT AIRPORT BY OWNER
Another person wrote, "Why can't I ever be on a flight when this happens?"
The owner, in his caption, gave "a shoutout to American Airlines" for "making our move to Brooklyn a piece of cake."
American Airlines notes on its website in its "service animals" section, "Our team members are trained to ask certain questions to determine if your animal is a service animal acceptable for travel."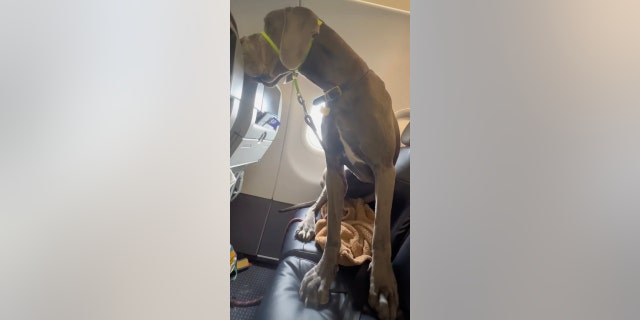 Fox News Digital reached out to the owner for further comment, as well as to American Airlines.
Vida Veterinary Care, which has two locations in Colorado, noted that Great Danes "are often thought of as gentle giants."
These dogs show traits such as playfulness, confidence, fearlessness and steadiness, the organization noted on its website.
The Great Dane "is courageous, loyal and sometimes reserved."
Among some of the other traits of Great Danes: This pet "takes up a lot of room due to her massive size." 
NORTH CAROLINA DOG WITH ASTROLOGY-INSPIRED NAME IS HOPING STARS ALIGN FOR A LOVING FAMILY
The Great Dane "is courageous, loyal and sometimes reserved, but with proper socialization and training, she is a true gentle giant," the veterinary business also noted. 
The Great Dane has an average lifespan of 8 to 10 years, according to the American Kennel Club.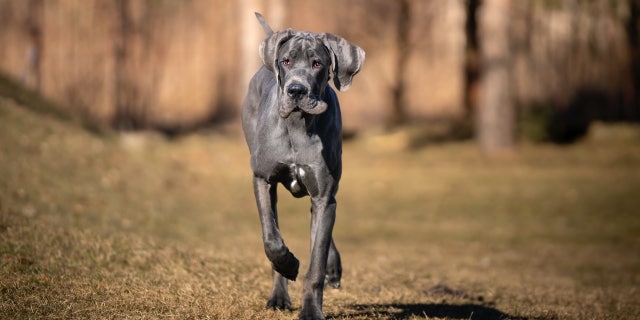 As Fox News Digital previously reported, there are some options when it comes to bringing pets on a plane — checking them as cargo or bringing them into the cabin and placing them under the seat in front of you. (In response to the TikTok video, several people commented that service dogs are "not supposed to occupy a seat — only the floor space in front of the seats.")
There is a third option if pets are a designated emotional support animal, though several airlines have been cracking down on pets that qualify. Some airlines decide for themselves whether to accept emotional support animals aboard their planes or not. 
Most airlines require a health certificate for animals, "typically issued within 10 days of travel," the Humane Society reports.
The Transportation Security Administration (TSA) notes that "pet travel restrictions vary by airline and airport." 
It says it's vital to "check with the air carrier before traveling with a pet."
The Humane Society of the United States, based in Washington, D.C., recommends that pet owners choose the cabin for their animal to travel in if at all possible. 
While noting that "most animals flown in the cargo area of airplanes are fine," it also says that cargo holds present dangers to animals."
"Excessively hot or cold temperatures, poor ventilation and rough handling are often to blame" for animals' deaths on commercial planes, the organization points out on its website. 
The Humane Society indicates that most airlines require a health certificate for animals, "typically issued within 10 days of travel," it reports.
"This is also a good time to ensure your pet's vaccinations are up to date and that [the pets] aren't battling any illnesses that could be exacerbated by heat or stress," it says as well.