THE AMERICA FIRST NEWS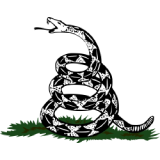 May 29, 2023  |  
0
 | Remer,MN
AM1.NEWS
The American Majority
The go-to-site for the news WE read. @am1_news
The go-to-site for the news WE read. : Created and operated in USA. Contact : support@am1.news : @am1_news
AM1.NEWS: The go-to-site for the news WE read : Contact: support@am1.news : Twitter @am1_news: The Internet of Us™ : AM1.NEWS
---
---
An ex-convict friend told the Las Vegas shooter, "Please don't go on any shooting rampage like some fool," in a handwritten letter months before the deadliest mass shooting in modern U.S. history.
It was one of 10 letters Jim Nixon sent to Stephen Paddock before Paddock indiscriminately opened fire from a Las Vegas hotel window that overlooked a music festival on Oct. 1, 2017, according to records obtained by The Las Vegas Review Journal.
A total of 58 people were killed that day, and at least 500 more injured. Two people died in the hospital later from injuries they suffered from the shooting. Paddock killed himself as law enforcement closed in on him.
The letters, signed Jim Nixon, which the Las Vegas newspaper described as Paddock's friend and Vietnam War veteran, who served time for tax fraud, pleaded with Paddock not "to go out shooting or hurting people who did nothing to you."
"I can get someone for you who can help you," Nixon wrote in one letter dated May 27, 2017.
"Please don't go out shooting or hurting people who did nothing to you. I am concern [sic] about the way you are talking and believe you are going to do something very bad. Steve please please don't do what I think you are going to do."
LAS VEGAS MASS SHOOTER WHO FIRED ONTO COUNTRY MUSIC FESTIVAL ANGRY WITH CASINOS, NEW FBI DOCS REVEAL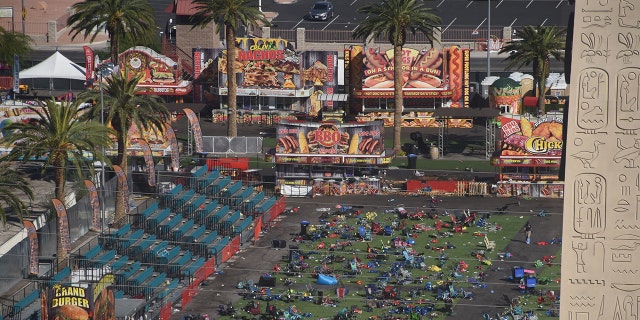 In a June 1, 2017, letter, Nixon wrote, "My friend it sound [sic] like you are going to kill or murder someone or some people. Please whatever it is I would like to talk to you about it, and we can discuss it. Please don't go on any shooting rampage like some fool."
In another letter, dated August 2014, Nixon wrote, "You said in (3) years you would be ready and that your plan would show up in Nevada, California, Illinois, Texas, New York and other cities," the Review-Journal reported. "What do you mean?"
LAS VEGAS-STYLE MASS SHOOTING THWARTED OUTSIDE HOLLYWOOD HIGH-RISE: POLICE 
He followed that message with a letter dated March 2, 2017, when Nixon wrote, "You must going on a hunting trip with all those guns you are stockpiling."
The letters – dated between 2013 and June 2017 – were discovered by the new owners of a vacant office building in Mesquite, Texas, that Paddock sold in 2012.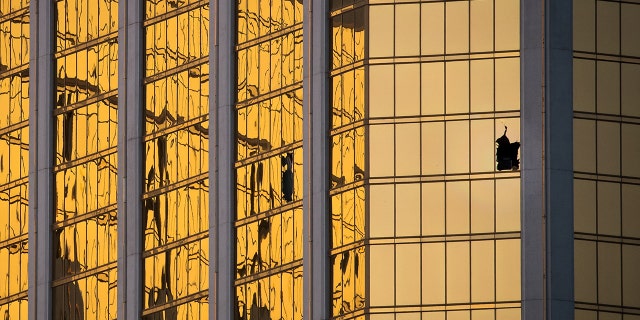 The FBI said in its report that Paddock used the money from the sale to buy the weapons and ammunition used to carry out the attack. 
Police didn't receive the letters until nearly two months after the mass shooting, when the new owners sent law enforcement the letters they found, according to reports. 
LAS VEGAS MASSACRE SURVIVORS FOCUS ON HOPE AND HEALING 5 YEARS LATER: 'WE ARE FOREVER FAMILY'
The letters were referenced by the FBI in the hundreds of documents released last week about the shooting, but their contents weren't included.
"We moved into an office and found ... a folder full of what appears to be copies of letters," according to an FBI brief dated Nov. 30, 2017, which included a redacted cover letter and information from the sender. "We wish you well with your investigation."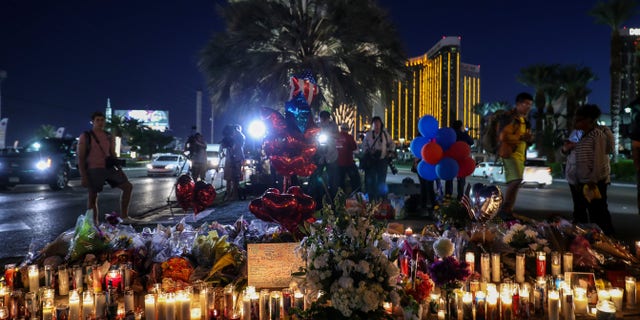 Nixon told the Review-Journal that law enforcement had never contacted him after the mass shooting.
"He did what he did, and I feel bad I couldn't have stopped him," Nixon told the Review-Journal. "I didn't know he was going to do what he did."
NEW DOCUMENTARY DETAILS 2017 LAS VEGAS MASS SHOOTING
The two became friends nearly a decade before the shooting and used to go fishing on Lake Mead together, the now 75-year-old Nixon told the Review-Journal.
The hundreds of documents released by the FBI shined new light on Paddock's potential motive, although the FBI said there's still no definitive motive. 
The FBI noted how Paddock was a prolific video poker player who visited the Tropicana Las Vegas once every three months on average. He would usually visit during the week because he thought tourists fed the machines on weekends. During one stay between Sept. 12-14, 2017, he lost $38,000. 
A fellow gambler told the FBI that Paddock "was very upset at the way casinos were treating him and other high rollers," according to the released documents. The interviewee expressed that he was "personally upset and stressed out about the treatment he and other high rollers received in recent years and believed the stress could have easily caused Paddock to 'snap.'" 
DEATH TOLL OF THE 2017 LAS VEGAS MASSACRE RISES FROM 58 To 60
Paddock had been banned from three casinos he frequented in Reno, Nevada, the gambler said.
Nixon's May 2017 letter appeared to show Paddock's escalating tension and desire for some sort of revenge. 
"You are a good person and I want you to know that I am concern about you and your wellbeing," Nixon wrote in the May 2017 letter, according to the Review-Journal. 
"I believe you are lying to me and you are going to hurt someone or kill someone. You sound like a real mad man on the phone tonight … Remember you have to answer to God Almighty for your earthly crimes."
A spokesperson for the FBI's Las Vegas office told The Associated Press in a statement on Friday that the agency "does not comment on individual interviews conducted during an investigation."
"There is no new information that the FBI was not aware of or that the FBI has not shared with the Las Vegas Metropolitan Police Department in this case. We stand by the FBI Behavioral Analysis Unit (BAU) key findings summary report," spokeswoman Sandra Breault wrote.
Note: You can use @chatbot mention tag to interact with ChatGPT language model in comments. Neither your comment, nor the generated responses will appear in "Comments" or "News & Views" streams.