THE AMERICA FIRST NEWS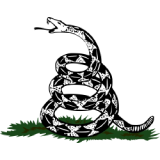 Jun 8, 2023  |  
0
 | Remer,MN
AM1.NEWS
The American Majority
The go-to-site for the news WE read. @am1_news
The go-to-site for the news WE read. : Created and operated in USA. Contact : support@am1.news : @am1_news
AM1.NEWS: The go-to-site for the news WE read : Contact: support@am1.news : Twitter @am1_news: The Internet of Us™ : AM1.NEWS
---
---
A biological man who underwent "gender-affirming care" 40 years ago said that the surgery nearly destroyed his life and slammed the profit-driven nature of surrounding transgenderism in the American medical and political landscape.
"When you hit the regret button, you can't put the pieces back," Walt Heyer, an American author, activist and speaker, told Fox News Digital.
According to Heyer, three main driving factors exist for people to identify as transgender.
The first is a social contagion, a factor that is more likely to effect preteens or teens.
"They do it because their friends do it. Sometimes the school or schools are doing the indoctrination. So, I tell parents, take your kids out of school," Heyer said.
DETRANSITIONING RALLY TURNS VIOLENT WHEN ANTIFA SHOWS UP, PARTICIPANTS LEFT 'AFRAID' TO SPEAK OUT: ORGANIZER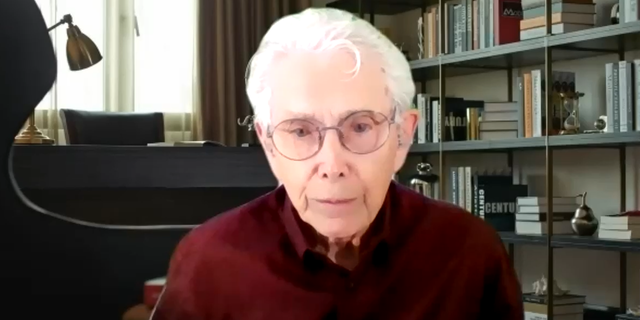 The second is internet exposure to media apps such as TikTok, where teens and young adults engage with sexually charged gaming experiences, anime, and a plethora of transgender-oriented groups. Heyer compared transgenderism to the rise of the Goth trend in the mid-2000s. But, while Goth was simply cosmetic and non-invasive, Heyer said transgenderism is both "harmful and very destructive."
The third factor driving people towards transgenderism, Heyer said, is the impact of adverse childhood experiences (ACEs), a term which the Centers for Disease Control describes as a "potentially traumatic event" that occurs between the ages of 0 and 17.
"The issue is that if they have a father that passed away or killed in a plane crash or a car accident or a huge mass divorce or an alcoholic mom or a parent that's in a mental institution or a brother died, or you can go down the list. And all these things represent what we call an adverse childhood experience," he said.
Heyer also noted that pornography is an example of an adverse childhood experience because it shapes identities and how people relate to others both mentally and sexually.
Heyer said that when he speaks with people who want to take hormone blockers and undergo surgery, he starts by peeling back childhood issues. In most cases, Heyer found that something traumatizing happened in the person's life. Furthermore, Heyer noted that trauma merely has to be perceived by the individual as having happened, regardless of whether it actually happened.
"They could feel uncomfortable, even unsafe, in their own house. It could be the neighborhood they're in, the school they're in, the kids they play with," Heyer added. "So, this is a vast wealth of information that takes a great deal of probing that the gender clinic [does not engage in]."
Heyer said that in 100% of cases, he had identified an issue or issues that caused the person to want to identify as someone else.
DOCTORS WHO 'PUSHED' PEOPLE INTO SEX CHANGE OPERATIONS ARE NO HELP FOR THOSE WHO WANT TO 'DETRANSITION': CLAIM
"We know that some kids, like myself, were sexually abused. And we're finding today, when we spend time with these individuals that are sexually abused and actually probed them about it and about why they want to identify a different gender, we'll find that many of the boys will tell you that they want to remove their genitalia, not because they want to be girls. But because they never want to be touched in their genitalia again," Heyer said.
Regarding girls and women, Heyer said the same motivators apply. If a female was sexually abused as a young girl, she might note when probed that she wants to grow a beard to become more masculine. The idea is that it is a defense mechanism, a characteristic used to repel someone from wanting to touch them inappropriately. These issues, Heyer said, require a trauma therapist, not a gender therapist.
"Strangely enough, when I work with these individuals, they don't even oftentimes know what the trauma was until you probed them and asked them and get involved in their life, their younger life," Heyer said. "And then when they hit that button and realize, 'Oh, yeah, I see what you mean.' They then begin to buy into it. And that's when I tell them, you see, this is not gender dysphoria. This is actually what we call generalized dysphoria, which is not specific to gender."
Ten years ago, there were around 250 referrals, mostly boys, to the Gender Identity Development Service (GIDS), run by the Tavistock and Portman NHS foundation trust in London.
In 2021, there were more than 5,000, a figure that doubled from the year prior. Many of these cases were male.
"I might have seen one child with gender dysphoria once every two years when I started practicing. It was very niche and rare," an NHS employee, who asked for anonymity, told The Guardian last year.
TRANSITION SURGERY STUDY RAISES QUESTIONS ABOUT LONG-TERM RESULTS ON QUALITY OF LIFE AFTER 'TOP SURGERY'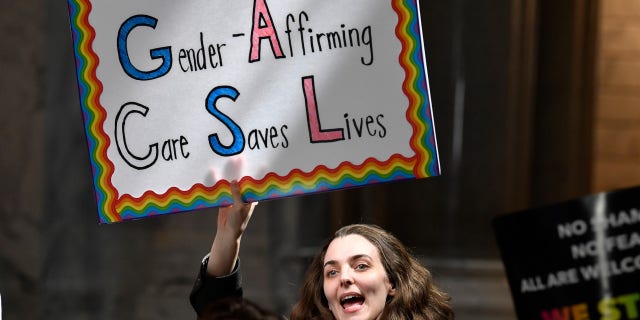 Today, between 10 and 20% of the employee's caseload comprises young females who identify as non-binary or trans and only the occasional male.
Heyer said many of the social components he listed above drive these young girls to identify as having gender dysphoria.
"Women do things in groups much more so than men. Men are very independent. They're not groupies by nature. Women do things together," Heyer said. "I know cases where girls, you know, they'll go to Planned Parenthood to get hormones and there will be five, six, seven of them. Men don't do that. They're more private. Girls sort of join together. So, I think this is why we're seeing this."
According to the Bulletin of The American College of Surgeons, the number of Gender Affirming Surgeries in the U.S. in recent years has increased substantially, as has the expansion of insurance companies providing coverage for such procedures. In addition, news coverage on the topic has become a daily occurrence, with many in the medical profession and media claiming the numbers represent increased research and better care. But, Heyer argues the rise in transgenderism is not representative of scientific progress but rather results from the potential for monetary gain.
According to Investopedia, top (breast) surgery can cost around 9,000 dollars for males and between 7,800 to 10,900 for females. Facial masculinization surgery can cost upwards of 53,700 while feminizing costs reach nearly 70,000.
In addition, hormone blockers and testosterone treatments cost can exceed 2,000 a year. Stanley Biber, a private practice surgeon in Colorado, performed more than 5,000 gender-affirming surgeries during his 35 years in practice.
SHOULD STUDENTS BE ALLOWED TO BEGIN GENDER TRANSITION WITHOUT PARENTAL CONSENT? TWO VIRGINIA MOTHERS WEIGH IN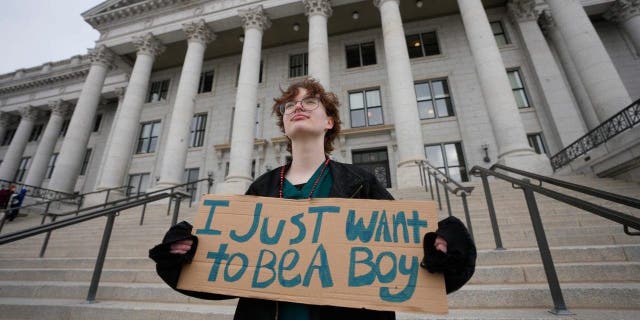 "Here's the difference between them and me. What I do, I do for free, everybody I help. I've never charged anybody a dime. I don't ask them to buy books and I don't ask them to make donations. I do everything for free. They do everything for profit. And so, if they were to take the same stance as I do. They would be out of business."
Heyer also noted that the term "identity disorder" was used until 2013, when they changed it to dysphoria. He said the change was not intended to improve a doctor's ability to make a diagnosis but rather avoid the stigma around having a disorder. Despite the change, Heyer said the disorder is still there but refutes the idea it has any association with gender.  
Heyer himself was diagnosed with gender dysphoria, a diagnosis he called a bald-faced lie" that merely unlocked the door for him to get hormones and surgery.
"You have to use the words gender dysphoria, or you can't get hormones and surgery," he said.
Heyer pointed to other European countries, like Sweden, that have conducted extensive research on these types of procedures as the "gold standard" for approaching the topic from a medical standpoint rather than a political one.
Sweden, the first country to introduce legal transgender surgery, recently put an end to treatment for minors following a study that found those who went under the procedure were 19 times more likely to die by suicide versus the average person.
DETRANSITIONING WOMAN LEFT 'HEARTBROKEN' AFTER IRREVERSIBLE SURGERY: 'I WAS MANIPULATED'
"Once you look at the data, it becomes unpolitical when it becomes medical, like what Sweden does. Then the dynamic changes," Heyer said. "But when it's political, it stays at the powerhouse. It is because you have Tides Foundation, Soros, all this money behind it, and it's a political juggernaut for the left."
In a recent piece in The Federalist, Heyer described his own procedure  as "medical malpractice" and a "scam." He also noted that nobody has ever successfully biologically changed from one sex to another.
"I haven't found one yet. I haven't found anybody that's ever transitioned. You see, they use the word transgender to convince you that this surgery and hormones actually changed them from a male or a female or female to male. It's false," Heyer said. "It's never happened in human history, and that's why I called it a scam," Heyer told Fox News Digital.
He added that the outcome did not make him a female but rather caused him to devalue himself as a man, a father and a husband.
When asked to expand on this perspective, Heyer said, "There's nothing you can do to change your gender. So, the only thing that you can do is begin to dehumanize yourself as a man. And then, eventually you destroy yourself as a man. You have no capability to produce sperm. If you're a girl, you have no capability to produce a child if you go through with a hysterectomy. So, I think the whole process is not only self-destructive; you devalue who you are as a man or a woman, and you dehumanize yourself by taking hormones and undergoing surgery. And the final chapter of that is that you've destroyed your life."
As a father to two children, Heyer said the effects of what he did had a ripple effect on all the people around him and his family.
NEW 'TUCKER CARLSON ORIGINALS' TWO-PART SPECIAL SEES 'DETRANSITIONERS' SPEAK OUT AGAINST TRANS 'MOVEMENT'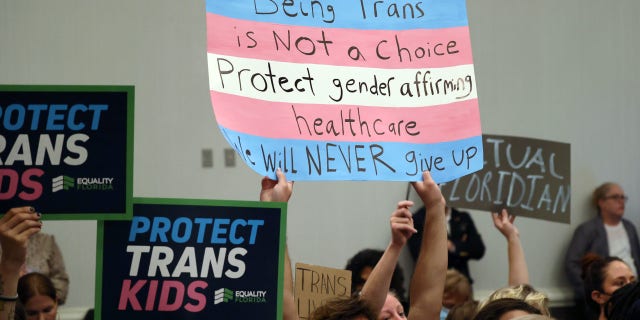 "We should be horrified that people are doing this whole Frankenstein process to themselves and cutting off body parts, cutting off breasts and girls genitals for boys without giving real good, proper psychotherapy," he added.
While completing a PhD program at a California university, Heyer said his eyes were opened to the fact of biological sex. Eventually, he challenged the surgeon who completed his procedure and Dr. Paul Walker, a psychologist who drafted the Standards of Care for patients with "non-conforming gender identities."
Heyer asked them to write a document for the Superior Court of California, San Mateo so that he could reverse his birth record, which had been changed from Walter Heyer to Laura Jensen.
"I said [to them], will you tell the court in your own writing, in an affidavit, what your surgery and hormones and therapy have done? Can you actually change me from a male to a female? And the answer was, no, they can't. They said the only thing that hormones and surgery does is neuter you. It affects your ability to produce children. It does not change your gender. That argument is in The Superior Court of California from January 1990. That's just a fact. That's what changed my mind," Heyer said.
Eventually, Heyer founded the website Sex Change Regret, where he heard from thousands who expressed regret over their decision to engage in "gender-affirming care."
Just two weeks ago, a 30-year-old man called Heyer and said he was going to the gender clinic to start on hormones. Before the appointment, the man admitted he wanted to talk to Heyer about his doubts.
Throughout, Heyer engaged in his own form of affirmation.
"I said, you know, you sound like a wonderful, intelligent, young 30-year-old man, and there is nothing you can do to add to how good you are. And there's nothing that you could take away that's going to make you better. I think you're perfect just the way you are."
The man responded, "I think you just may have saved a life today."
Note: You can use @chatbot mention tag to interact with ChatGPT language model in comments. Neither your comment, nor the generated responses will appear in "Comments" or "News & Views" streams.