THE AMERICA FIRST NEWS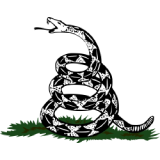 May 29, 2023  |  
0
 | Remer,MN
AM1.NEWS
The American Majority
The go-to-site for the news WE read. @am1_news
The go-to-site for the news WE read. : Created and operated in USA. Contact : support@am1.news : @am1_news
AM1.NEWS: The go-to-site for the news WE read : Contact: support@am1.news : Twitter @am1_news: The Internet of Us™ : AM1.NEWS
Nick Gilbertson
---
---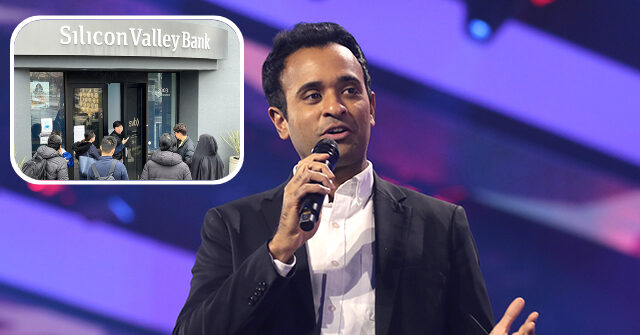 Republican presidential candidate Vivek Ramaswamy appeared on Sirius XM's Breitbart News Saturday and declared he is firmly against a bailout for Silicon Valley Bank (SVB), which he called "one of the biggest evangelists of DEI and ESG."
Ramaswamy, who told Breitbart News Washington Bureau Chief Matthew Boyle that the 2008 financial crisis informed much of his economic policy, rejected the idea of a taxpayer-funded bailout after customers withdrew $42 billion in a massive run this week.
"I want to be early because you're gonna hear the calls for bailouts coming real soon here. I'm against a government bailout," said the 37-year-old entrepreneur who has founded multiple biotech start-up companies worth multi-billion dollars. "And you know what, we don't learn the lessons we should have learned, then you keep making the same mistakes all over again."
"The Federal Reserve, for 15 years, has been raining money from on high like manna from heaven," Ramaswamy told Boyle while speaking via phone before a live audience in southwest Ohio. "We've been skiing on artificial snow. Now the snow machine turns off, and within less than a year, you're seeing the banks fail because they don't know how to ski on anything other than artificial snow. I'm talking about money being pumped into the system."
"Capitalism, [Joseph] Schumpeter said it well, it's based on creative destruction," he continued. "So you know what, someone's got to have the things to pay for the sins. That's great. That's part of how capitalism works. We can't interfere… with this short-termism of bailing out this bank. It's a mistake. And by the way, Republicans made this mistake in 2008. It's crony capitalism. Hank Paulson, under George Bush – I think it was a mistake – bailed out Goldman Sachs and others like them… It's crony capitalism because Hank Paulson was most recently the CEO of Goldman Sachs before bailing them out. But I think that we should resist the siren song with the Silicon Valley Bank catastrophe."
LISTEN: 
Breitbart · Vivek Ramaswamy – March 11, 2023
Ramaswamy then highlighted SVB's embrace of Diversity, Equity, and Inclusion policies and asserted the bank pushed Environmental, Social, and Governance (ESG) investing factors.
"Silicon Valley Bank is one of the biggest evangelists of DEI and ESG – environmental and social factors," he said. "In fact, just January of last year, barely over a year ago… they made a $5 billion commitment to sustainable finance to actually make for what they call a climate-ready, healthier planet. Well, guess what? That $5 billion would have served their balance sheet – how about a healthier balance sheet instead? And that's something that actually, it's a lesson that everyone else ought to learn by example. The lesson they ought to learn is not when you waste your money and burn it in a financial trash fire that… the taxpayers of this country are there to save you. No! It actually ought to be a lesson for everybody else that a healthy balance sheet is the responsibility of a bank, not… what they call a healthy planet."
"But I think that that's actually the lesson we've got to learn," continued the presidential candidate. "And you know what, that was the 2008 lesson, too…The reason we had the 2008 financial crisis … is because we had a social policy for allocating capital in this country. Back then, it was homeownership. Under the Clinton administration, it was a goal to say that every American should own a home. Well, I liked that as much as the next guy, but if you can't afford a home, that means you probably shouldn't be borrowing to buy one. And so, yet, they still forced people effectively into doing it. Then you have the bubble that results in the financial crisis, and the very people you wanted to help are the ones who got hurt."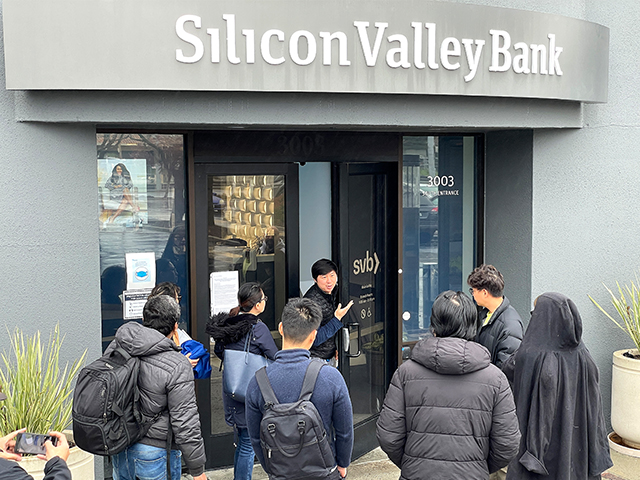 "Well, guess what? The same thing with this environmental and social scam as well," he stressed. "It's tilting the scales of how capital is allocated. And I'll tell you this is somebody who succeeded in the system of free market capitalism as we know it. I'll give it to you straight: When there's a non-economic factor that guides the flow of capital, bad things happen. You create bubbles, and it hurts the very people that you set out to help."
Breitbart News Saturday airs on SiriusXM Patriot 125 from 10:00 a.m. to 1:00 p.m. Eastern.
Note: You can use @chatbot mention tag to interact with ChatGPT language model in comments. Neither your comment, nor the generated responses will appear in "Comments" or "News & Views" streams.