THE AMERICA ONE NEWS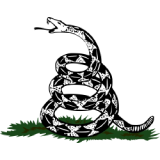 Dec 11, 2023  |  
0
 | Remer,MN
Sponsor: 
WISH-TEXT.COM
 Personalized AI Greeting and Sympathy Cards for the Social Media.
Sponsor: 
WISH-TEXT.COM
 Personalized AI Greeting and Sympathy Cards for the Social Media.
Hannah Bleau
---
---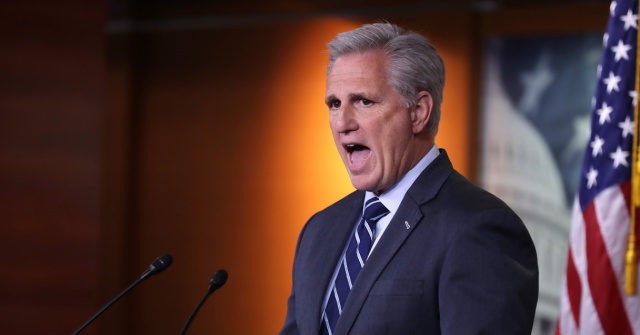 It is "unconscionable" that the Biden administration is indicting the leading Republican candidate for president, particularly when President Joe Biden and twice-failed presidential candidate Hillary Clinton have not been held accountable, House Speaker Kevin McCarthy (R-CA) told Breitbart News Saturday, assuring that Republicans in the House "have not been sitting back."
McCarthy deemed the indictment a "dark, dark day," expressing that it is "unconscionable that the present administration would go indict the leading candidate coming up to the election against you."
McCarthy said the accusation is particularly ironic, given the fact that Biden has classified documents from not only when he was vice president but senator — the latter of which is particularly problematic.
"A president, vice presidents [are] different when they receive their documents. He [Biden] had documents that old when he was a senator. And that's not just all of it," he said, laying into Hillary Clinton's infamous email scandal as well.
LISTEN:
Breitbart · Speaker Kevin McCarthy – June 10, 2023
"You had the former first lady, Secretary of State U.S. Senator Hillary Clinton," he said, asserting they are accusing Trump when "nobody prosecuted" them.
"And on top of all of that, when did the timing of this happen?" he asked, noting the FBI whistleblower coming to Congress about a document regarding allegedly bribery concerning the current president when he was vice president. 
"This is outrageous what is going on. This is unbelievable. This is something you would not think you would even see in America today. But this is where we currently are," McCarthy said, explaining that it is time to "put the blinders back on Lady Justice with that scale back even again."
"This cannot sustain itself. America, one of the greatest strengths is the rule of law. Equal justice, " he said, adding that Republicans have "not been sitting back."
"We've been pulling —  you would never have found the current information that we found from Hunter Biden," he said, emphasizing that they are continuing to gather evidence, which leads to more evidence.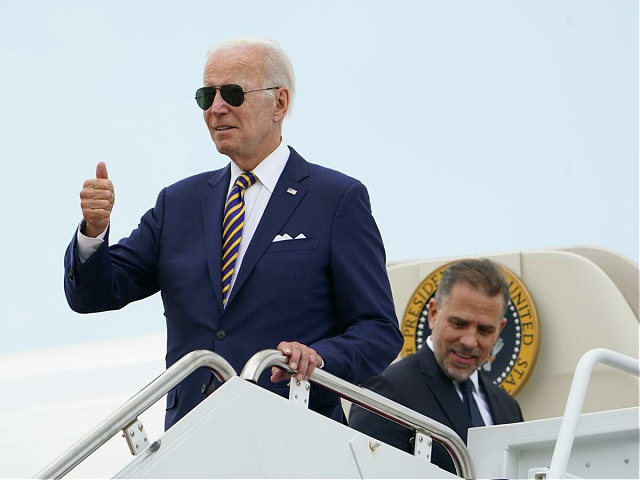 "That's where we've been able to find the bank accounts. That's really where we've been able to find this 1023 [document]. That is the notion of the latest information we have. But one piece of evidence leads us to the next piece of evidence. So we're following the trail. We have more 1023 and we have [FBI Director] Christopher Wray now, we told them we want those because the last one we found… So we are following this trail. We'll follow it all the way and we will apply the law exactly the way that it should be," McCarthy said, adding that if something rises to the severity of an impeachment or contempt, they will move in that direction and apply justice fairly. 
"No one's gonna get off scot free," McCarthy assured, adding that Americans should watch how Republicans are handing the FBI.
"[Democrats] want to go spend up to $4 billion on the new big headquarters. Now remember, if you built the Pentagon today, and you put it in today's numbers of dollars, it only cost $900 million. I don't think that's the best use of money. I don't think the FBI should be bigger, centrally located to go after the American public," he said, adding that that Americans are going to "find a lot of actions that we have already been working on" which will really begin rolling out "quickly."
Breitbart News Saturday airs on SiriusXM Patriot 125 from 10:00 a.m. to 1:00 p.m. Eastern.