THE AMERICA ONE NEWS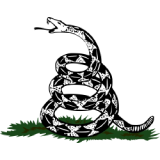 Dec 9, 2023  |  
0
 | Remer,MN
Sponsor: 
WISH-TEXT.COM
 Personalized AI Greeting and Sympathy Cards for the Social Media.
Sponsor: 
WISH-TEXT.COM
 Personalized AI Greeting and Sympathy Cards for the Social Media.
Neil Munro
---
---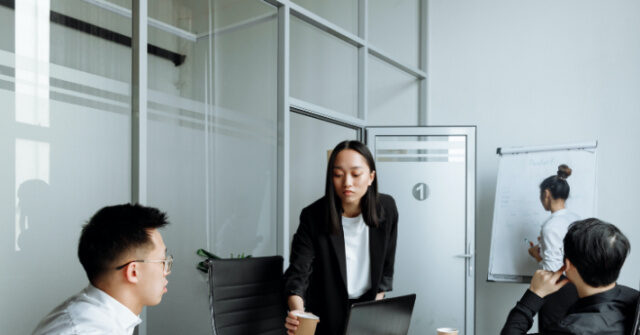 Fortune 500 companies are firing hundreds of thousands of American professionals, but President Joe Biden's deputies want to import more foreign white-collar workers for jobs that would go to better-paid American graduates.
"We currently have at least ten million job vacancies right now in the United States," including jobs in the government-funded computer-chip sector, White House official Katie Tobin claimed during a speech at the American Enterprise Insitute, adding:
Of course, the priority is retraining Americans to fill those jobs. Then we really view this as such an opportunity to transform, you know, manufacturing and so many other industries here domestically.
But this does create a demand for increased high-skilled labor from other parts of the world, and so that is something that we're working with the State Department on and DHS [Department of Homeland Security] … to make it easier for [migrants] that have these skill sets that we think can really contribute to implementing these new policies, that we can bring them in faster (emphasis added).
Tobin did not explain why she sides with the nation's six million employers as they negotiate recruitment and salaries with the U.S. workforce of roughly 60 million white-collar employees.
But Tobin's push for more foreign white-collar workers is being backed up by her White House colleagues, Hill legislators, investor-funded advocacy groups, op-eds, university-based advocacy centers, and leading investors amid large tech-sector layoffs.
"Like It or Not, America Needs Chinese Scientists," claimed a  May 25 op-ed in the New York Times that did not mention how many university scientists prefer to use cheaper foreign students for lab workers.
Eric Schmidt, an investor, and a former Google CEO, wrote in the May 16 issue of Foreign Affairs:
U.S. semiconductor companies will have 300,000 unfilled vacancies for skilled engineers by 2030. Targeting, training, and recruiting hundreds of thousands of U.S. citizens will be impossible in such a compressed time frame … if Washington wants to stay ahead and achieve the promise of the CHIPS and Science Act, it must act to remove the needless complexities to make its immigration system more transparent and create new pathways for the brightest minds to come to the United States.
But these demands for the "top tier" talent also hide the corporate for ordinary migrants to fill the white-collar jobs that would otherwise go to ordinary U.S. graduates at higher wages. For example, Schmidt's "brightest minds" article also said:
Several other visa classes should be created, including ones for foreign nationals of high aptitude who, in return for residency, agree to work for federal or state governments in areas which most need immigration.
For decades, the federal government's H-1B, L-1, OPT, and other visa programs have encouraged Fortune 500 companies to import millions of cheap and compliant contract workers for white-collar jobs instead of training and promoting Americans.
In the last few months, for example, officials have awarded three-year H-1B work visas to foreigners and extended roughly 150,000 H-1B visas. They have also approved many other college graduate contract workers via the J-1, TN, H4EAD, COPT, and OPT work permit programs.
This cheap-labor policy keeps at least 1.5 million foreign graduates in current U.S. jobs, speeds up the overseas outsourcing of many additional jobs, allows companies to corral much technology development, and boosts investors' stock prices.
But the subsidy for Wall Street has also damaged U.S. innovation and shriveled the number and skills of American tech workers, partly by diverting many U.S. college students into less demanding careers.
For example, the Census Bureau reported in 2021 that most U.S. technology graduates and post-graduates were being side-tracked into non-technology jobs:
Among the 50 million employed college graduates ages 25 to 64 in 2019, 37% reported a bachelor's degree in science or engineering but only 14% worked in a STEM occupation, according to the Census Bureau's 2019 American Community Survey 1-year estimates.
The large existing population of underemployed U.S. graduates also helps lower salaries for most college graduates, including journalists. "Most college graduates have actually seen their real incomes stagnate or even decline" since 2000, New York Times columnist Paul Krugman charted in April 2022: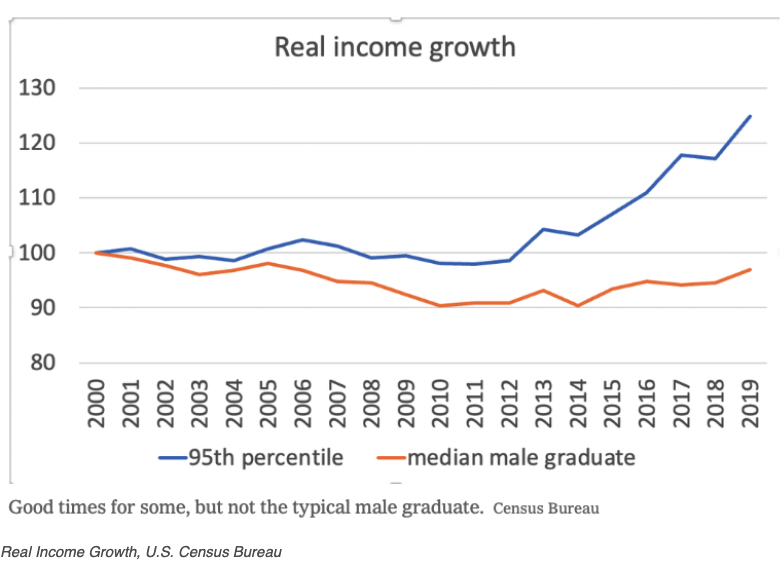 We get quotes talking about how "We need high-skilled people, really smart entrepreneurial-type people," and then what they come up with are programs like H-1B and others that produce [migrants with] middling skills.
We have data on immigrants with college degrees, including foreign degrees. They just don't do very well [in U.S. jobs]. The average foreign-educated immigrant in the United States makes considerably less money than U.S.-educated person and has considerably less measured skills. We have that from various skill tests that are given nationwide.
This [advocacy] is a pursuit much more of cheap and easily controllable labor than it is a desire for [Albert] Einstein-level skills.
Many Indian visa workers, for example, claim fake credentials or graduate from low-quality or unrated universities.
Politicians understand the unpopularity of labor migration and try to zig-zag between aggressive lobbyists and suspicious voters.
In 2020, President Donald Trump used the coronavirus emergency to temporarily block the inflow of foreign workers, shocking many CEOs and investors.
The shock was felt again in 2022 when Midwest Republican senators and a bipartisan House coalition blocked two Biden plans to import many more white-collar workers for Fortune 500 jobs.
The political defeats have pressured U.S. CEOs to train more Americans. The New York Times reported on May 19:
Intel, which announced plans to spend $20 billion on two new chip factories in Arizona and more than $20 billion on a new chip manufacturing complex in Ohio, has invested millions in partnerships with community colleges and universities to train technicians and expand relevant curriculum.
Gabriela Cruz Thompson, the director of university research collaboration at Intel Labs, said the company anticipated creating 6,700 jobs over the next five to 10 years. About 70 percent would be for technicians who typically have a two-year degree or certificate.
But the profit-seeking CEOs also hire many visa workers for the white-collar jobs Americans seek. The extra labor supply ensures there has been little or no salary growth for American college graduates even as housing prices spiked and stock profits have boomed.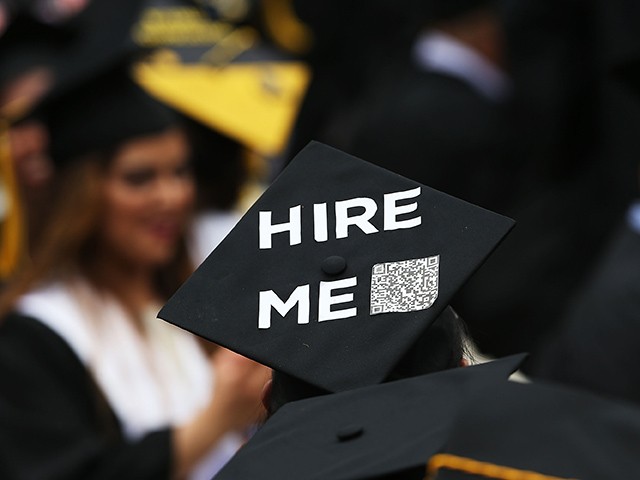 "In 2021, the average annual income of a college graduate with a Bachelor's degree in the United States was 52,000 U.S. dollars," Statista.com reported in April 2023. "This is a decrease from the previous year when the median income for college grads was around 52,344 U.S. dollars."
The Federal Reserve Bank of New York reported that after-inflation wages of U.S. college graduates have remained flat for 33 years — even while the C-Suite made a killing from corporate stocks: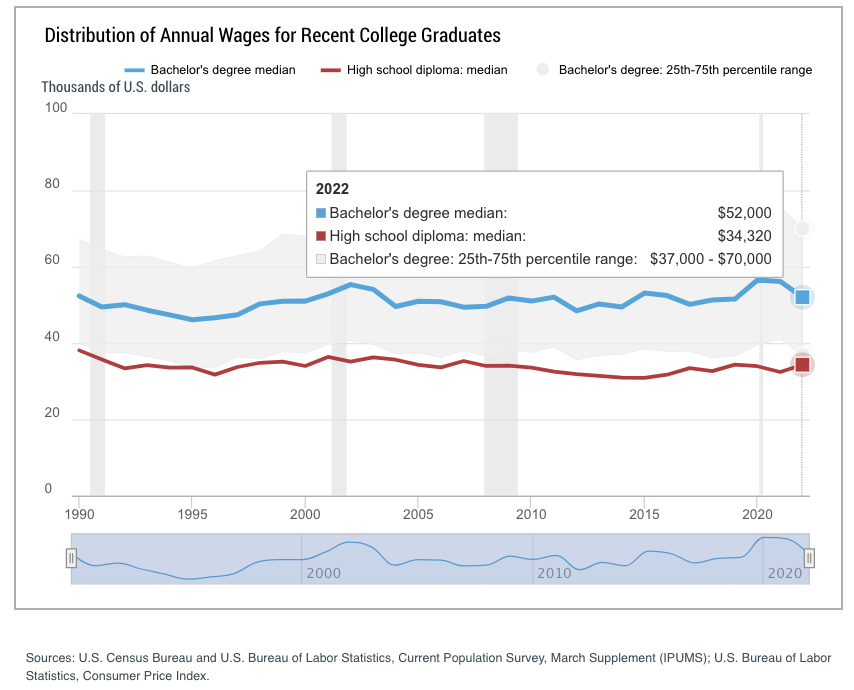 The federal government has long operated an unpopular economic policy of Extraction Migration. This colonialism-like policy extracts vast amounts of human resources from needy countries, reduces beneficial trade, and uses the imported workers, renters, and consumers to grow Wall Street and the economy.
Since 2021, for example, Biden has imported at least 3.7 million poor, job-seeking migrants across the southern border, alongside the legal inflow of roughly one million immigrants and one million visa workers per year. The combined inflow is delivering almost one migrant for every U.S. birth.
The migrant inflow has successfully forced down Americans' wages and also boosted rents and housing prices. The inflow has also pushed many native-born Americans out of careers in a wide variety of business sectors and contributed to the rising death rate of poor Americans.
The lethal policy also sucks jobs and wealth from Heartland states by subsidizing coastal investors with a flood of low-wage workers, high-occupancy renters, and government-aided consumers.
The population inflow also reduces the political clout of native-born Americans because the population replacement allows elites to divorce themselves from the needs and interests of ordinary Americans.
Migration — and especially labor migration — is unpopular among swing voters. A 54 percent majority of Americans say Biden is allowing a southern border invasion, according to an August 2022 poll commissioned by left-of-center National Public Radio (NPR).
The 54 percent "Invasion" majority included 76 percent of Republicans, 46 percent of independents, and even 40 percent of Democrats.